If you don't know where to stay in San Francisco, we are here to help.
As you plan your California vacation, keep this post pinned. We narrowed down the best hotels in San Francisco CA so you can choose from hotels in the most popular San Francisco neighborhoods so your vacation is stress free and memorable.
There is nothing like the atmosphere and vibe of San Francisco California.
It's a colorful mishmash of hippies, techies, and creative artists. From the steep hills to the cool air drifting over the bay, this is a city unlike any other.
There are so many things to do in San Francisco that you might have to take a few different trips just to see and experience it all. When you are visiting San Francisco, choose from one of our top picks below – we did all the research for you!
What is the Best Location to Stay in San Francisco?
One of our top tips on where to stay in San Francisco for the first time is narrow your search to one district at a time.
There are five vibrant and popular San Francisco neighborhoods and they couldn't be more different from each other: Union Square, Fisherman's Wharf, North Beach, The Castro, and the Financial District.
To make things easy for you, we browsed Booking.com and found the best 3-star, 4-star, and 5-star San Francisco hotels in each district.
No matter what your budget and where you are exploring and visiting, you'll find reliable and relaxing bay area hotels.
Why Book Your San Francisco accommodation with Booking.com?
Booking.com is one of the most convenient ways to plan any vacation in the United States.
I like that you can book a variety of San Francisco accommodation types on one website – hotels, apartments, and hostels, even holiday homes – and I love how simple their website is to use!
Booking.com is the world leader in booking accommodation online and has over 800,000 properties worldwide and over 275 in San Francisco.
The best thing about booking hotels in San Francisco via Booking.com is the free cancellation on most rooms and a best-price guarantee.
You can book knowing you are getting a low rate, and have the freedom to cancel if your plans change.
We also enjoy reading verified reviews from guests who stayed at the properties. Booking.com is our go-to hotel booking site.
Hotel Stars Criteria
We used the below criteria to narrow down the search results for the best places to stay in San Francisco:
Location Score 8+
Review Score 8+
Free WiFi
Air Conditioning
Property type: Hotels
Best Hotels in San Francisco
These are the best hotels in San Francisco split into the most popular San Francisco districts:
Union Square
Fisherman's Wharf
North Beach
Downtown San Francisco
Financial District
Hotels near Union Square
First, let's look at places to stay near Union Square.
This is the central shopping, hotel, and theater district. You are within walking distance of a variety of restaurants, stores, and theaters.
3-Star Hotels near Union Square
If you're researching where to stay in San Francisco on a budget near Union Square, check out these three-star hotels.
Executive Hotel Vintage Court
The Executive Hotel Vintage Court is an incredible place to stay on a budget. They offer wine tastings to their guests and it is located just 5 minutes from The San Francisco Museum of Modern Art.
Couples rates this hotel 9.0 as a perfect getaway.
Marines' Memorial Club & Hotel Union Square
This hotel is located in a stunning historical building that's just a 5-minute walk from Union Square.
There are so many things to love about Marines' Memorial Club. From the breathtaking rooftop restaurant with awe-inspiring views to the 564-seat on-site theater, you might not want to leave.
4 Star Hotels near Union Square
San Francisco Marriott Marquis
Marriott Marquis San Francisco is a fantastic hotel centrally located in the SoMa district not far from Union Square.
You will love the surprisingly large rooms, and San Francisco views. I loved my stay here. Breakfast buffeet is pretty impressive (although pricey)
Do not miss cocktails from The View lounge – the views are sensational. You can read more in my post on one day in San Francisco
Kimpton Sir Francis Drake Hotel (Currently closed as of Jan 2021)
Looking for stylish places to stay in San Francisco?
The Kimpton is decorated stunningly with elaborate ceilings and ornate furniture. It's also just a few steps away from the subway and the Powell Street cable car.
If you stay at The Kimpton Sir Francis Drake, experience the hosted wine hour from 17:00-18:00 every day.
And if your'e researching where to stay in San Francisco with kids, check out their joining family roooms!
Hotel Nikko San Francisco 
Experience supreme customer service at the Hotel Nikko. It's a modern Asian-inspired hotel with an indoor pool and expansive city views. The Golden Gate Park is just a short 20-minute drive away.
Club Donatello
Club Donatello is centrally located just a block from Union Square.
Right on the roof is Donatello's Club 1500 with panoramic views of the city. And when you stay here, you are a very short drive or walk from A.C.T.'s Geary Theater, AT&T Park (home of the San Francisco Giants), and the Ferry Building Marketplace.
This is one of the best 4 star hotels in San Francisco.
5 Star Hotels near Union Square
Four Seasons Hotel San Francisco
You will never forget your stay at the Four Seasons, it's one of the top hotels in San Francisco.
When you stay here, take advantage of the full-service spa or take a swim in the indoor lap pool. Plus, the MKT Restaurant – Bar on-site has a delightfully urban-chic atmosphere with small plates for sharing.
Taj Campton Place
The Taj Campton Place is an updated historic hotel with European charm.
It has a rooftop gym with breathtaking views of San Francisco. It's really close to lots of popular San Francisco attractions such as Fisherman's Wharf, the Bay Bridge, and the Golden Gate Bridge.
Hotels near Fisherman's Wharf
If you're looking where to stay in San Francisco near the water, then Fisherman's Wharf is a good choice.
This is the place to stay if you want to indulge in fresh, from ocean to plate seafood. From shopping to the food, Fisherman's Wharf is a bustling and fun place to spend your trip.
4 Star Hotels Near Fisherman's Wharf
Kimpton Alton at Fisherman's Wharf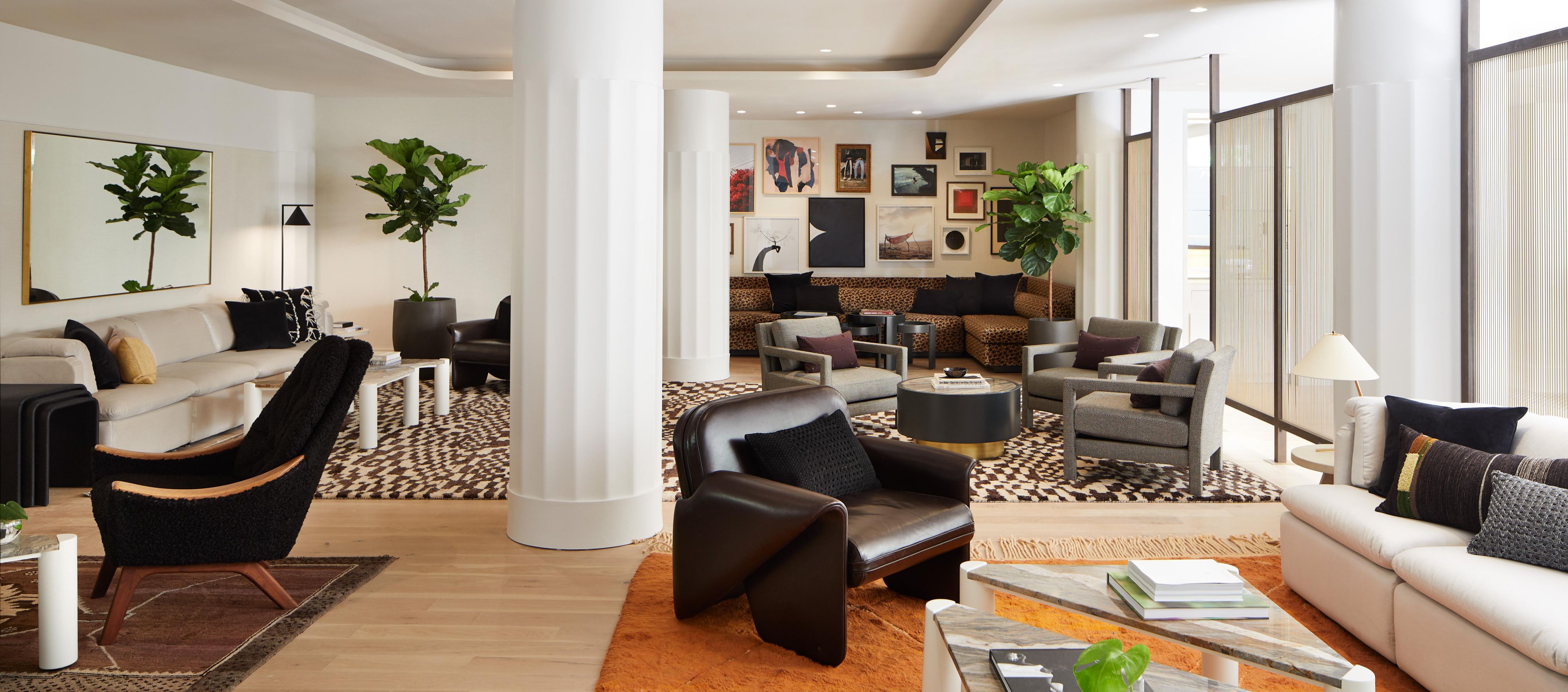 The new hotel on the block, the Kimpton Alton offers a refreshing retreat in Fisherman's Wharf with a vintage feel.
Greenery-draped skylights and classic rock and roll set the scene for a mellow evening with friends, or watch the world go by from the patio of our all-day restaurant. Retro-inspired guest rooms outfitted with Victrola record players, sumptuous furnishings and bay views.
This is my pick for my next visit to San Francisco.
Book your stay with Kimpton Alton.
Hotel Zoe Fisherman's Wharf
Hotel Zoe is just a short 2-block walk from the waterfront. And not only does it have an on-site restaurant that serves amazing seafood, it also has coffee and tea in the lobby every morning.
Lots of guests say they love sitting outside and having a drink or two while they listen to the sounds of nearby Fisherman's Wharf.
Hyatt Centric 
Stay at this bricked-hotel the next time you visit San Francisco. The Hyatt Centric has both a heated outdoor pool and hot tub for those cool summer nights.
Plus, you will feel like a VIP at the lounge and restaurant.
Courtyard by Marriott Fisherman's Wharf 
Another really popular place to stay is the Courtyard by Marriott.
You can always count on top-notch customer service when you stay at a Courtyard hotel. It has a breakfast Bistro and on-site concierge for your convenience.
Book your stay direct with Marriott
5 Star Hotel Near Fisherman's Wharf
The Fairmont Heritage Place Ghiradelli Square
Looking for San Francisco hotels with a view? And want to feel like a celebrity?
Then you need to splurge a little and stay at these luxurious 1-3 bedroom apartments. Indulge in privacy, relaxation, and space all to yourself.
This urban resort literally sits above the Ghiradelli square, known for the chocolates. Not only are they apartments with sitting room, dining room table, bedroom, and kitchen, but you have access to a 24-hour butler.
Hotels near North Beach
You can't miss the evolving excitement of North Beach, San Francisco.
It's close to the Financial District and it's a busy Italian neighborhood that overlooks the water with views of both Treasure Island and Alcatraz Island.
When researching places to stay in San Francisco California, staying in North Beach can be both relaxing and romantic.
3 Star Hotels
These are the best hotels in North Beach on a budget. Perfect for families or couples.
Columbus Inn
The Columbus Motor Inn is just 1,000 feet from Lombard Street and only 1,650 feet from the famous Ghiradelli Square. You'll enjoy tons of shopping and food all nearby.
Hotel Boheme
This is a fun and whimsical hotel that captures the bohemian flair of the 1950s and 1960s.
It's located conveniently near some top-notch Italian restaurants and is only a short walk to Lombard Street and the famous cable cars.
Washington Square Inn
The Washington Square Inn is a boutique-style hotel that overlooks Washington Square Park.
As soon as you step into your room you'll be welcomed into opulence from the thick bathrobes to the wood furniture.
Hotels Near Downtown San Francisco
There is something exciting and fun about staying in downtown San Francisco. From all the shops on Market Street to the nearness of Chinatown, there is so much for you to see and do.
3 Star Hotels in Downtown San Francisco
These three hotels are known for their customer care. They offer fantastic value, clean rooms, and plenty of hospitality.
Hampton Inn Downtown San Francisco
The Hampton Inn is centrally located in the Theater District, right next to Nobb Hill and Union Square.
It is one of Booking.com's Top Picks for hotel rooms in San Francisco for good reason. Breakfast is included and the rooms have superb views of the city.
Holiday Inn San Francisco – Golden Gateway
You can always rely on the Holiday Inn to offer incredible value and the best customer service.
The rooms offer either city or bay views and it's close to the impressive Golden Gate Bridge. Dine on-site at the R-O-H where you can also experience Napa and Sonoma wines or international craft beers.
Hotel Griffon
The Hotel Griffon is really close to the Bay Trail so you can take in the outdoor scenery and get away from the traffic and business of the city.
Plus the guest rooms have 12-foot high ceilings and views of the bay that make you feel like royalty.
4 Star Hotels
Hotel Vitale – A Joie de Vivre Hotel
I bet you have never stayed at a hotel like the Hotel Vitale. The beauty is in the details.
The rooms are exquisitely designed with comfort in mind. Guests rave about the Americano Restaurant & Bar, where you can sit and take in the views of the city while enjoying the memorable food and drinks.
It's one of the coolest hotels in San Francisco.
The Clift Royal Sonesta Hotel
Enjoy the rich hospitality at the Clift Royal Sonesta Hotel. Here, you can stay in rooms designed by the French architectural designer Philippe Starck.
When you aren't relaxing in one of the custom-made sleigh beds, nibble on some breakfast in the Velvet Room. Then later that night sip some drinks in either the Living Room or the Redwood Room.
If you love art, take a look at the original art pieces in the lobby by Salvador Dali and Charles Eames.
Axiom Hotel
They say a stay at the Axiom is like a step into the future. The lightning-fast fiber-optic WiFi is free for guests.
Plus the lobby and guest rooms are all designed with a flair for the modern. While you are staying here, walk the .6 miles to Chinatown, it's unforgettable.
Hotel Zelos San Francisco 
Hotel Zelos is a conveniently-located hotel with a focus on eco-friendliness.
While you are here, take advantage of the in-room spa services. Then spend some time at the restaurant and bar, Dirty Habit, that has a heated outdoor patio.
5 Star Hotels
Splurge and feel like a celebrity at this memorable 5-star hotel.
Huntington Hotel 
You will never forget how pampered you felt when you stayed at the Huntington Hotel.
The rooms are luxuriously spacious and filled with overstuffed, comfy furniture. It also has an award-winning spa, the Nob Hill Spa and an adults-only indoor hot tub.
Hotels Near The Financial District
If you need a place to stay in the business center of the city, then these are the best hotels for you.
4 Star Hotel in the Financial District
Club Quarters Hotel 
Staying at the Club Quarters Hotel makes you feel like you are entering a private club made just for you.
The Embarcadaro Station – BART – is only a 5-minute walk from the hotel, and the Wi-Fi is free and fast. Grocery delivery and room service are some of the amenities people love best about this place.
5 Star Hotels
Loews Regency San Francisco 
The Loews Regency is a boutique hotel. It stands out from the rest because of the breathtaking city views from every single guest room.
This is because the rooms are all located on the top 11 floors of a 48-story building. It also has gourmet on-site dining and in-room massage services too.
Things to Do in San Francisco
While you are staying in your San Francisco accommodation, explore the area and enjoy being a tourist.
Here are more tips on the best things to do in San Francisco you shouldn't miss:
More Hotel Guides
Pin Below To Save On Pinterest:
I hope this post helped you to decide where to stay in San Francisco? If you have any suggestions on the best hotels to stay in San Francisco, leave a comment down below!