Who says travel to amazing places, such as Peru, is only for the people that are willing to quit their jobs?
My husband and I have been working the 9 to 5 and traveling to amazing places for the past 12 years. We have used our vacation days to see some of the world's most sought after places, including a Peru trip.
We understand the challenge of only having a few vacation days, but when that is all you have to work with you find a way to make it work.
I have heard from many people that planning to visit Peru for only 10 days would be "too rushed" and we would be "unable to enjoy it".
I usually counter this with, "Have you traveled to Peru for 10 days?" and this is usually followed by a shameful "well… no". It is possible to take 10 days, travel to Peru, see amazing things, not feel rushed and have the time of your life.
Things to Do in Peru
The best way to plan Peru travel is to create Peru trip pillars.
Your pillars represent the things you are not willing to miss on your Peru trip. Peru travel has many pillars and it is not possible to see them all in 10 days in Peru. So identifying your Peru must-sees is very important in the planning process.
Common Peru pillars include:
Lima
Nazca Lines
Lake Titicaca
Machu Picchu
Sacred Valley
Cusco
Amazon Rainforest
Colca Canyon
Ballestas Islands
and Huacachina Sand Dunes.
You could spend months exploring all the nooks and crannies of Peru but with 10 days, pick your pillars and then plan things to do in Peru around them.
This will make the best use of your time and budget.
My biggest piece of advice is to accept that you can't see it all and trying to WILL lead to a rushed, unpleasant travel to Peru.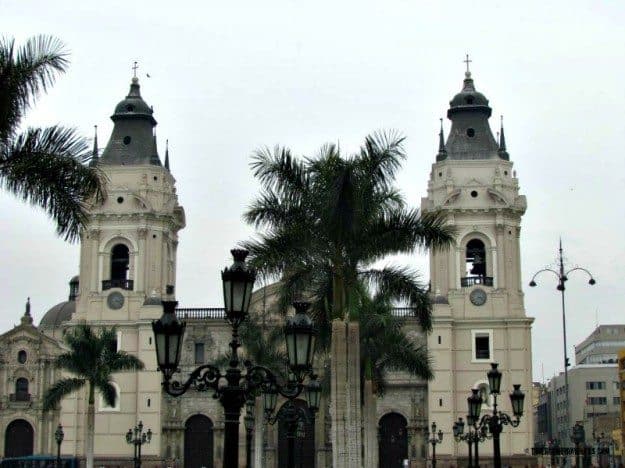 Peru Itinerary 10 days – make a plan
When making flight arrangements to Peru you will likely fly into the capital city of Lima arriving late at night.
This city is a vibrant, busy and crowded Third World capital and I wouldn't plan on too many days here.
If you plan your very first day in Lima you will have plenty of time to catch up on some sleep from your late arrival the night before and hit the highlights of the city.
From Lima, you can reach the Nazca Lines, Ballestas Islands and Huacachina Sand Dunes by bus. To visit these areas you need to plan a minimum of 2 days with an overnight.
A day trip to the Nazca lines can be done if you are really short on time and can't live without them. It will be a long day and it isn't feasible to combine Ballestas Islands and Huacachina with the Nazca Lines on a day trip.
After your time in Lima, you'll want to head to the next pillar area. For us, it was Puerto Maldonado to spend 4 days in the Amazon Rainforest.
You could also head to Lake Titicaca, Cusco or Colca Canyon at this point depending on what you have chosen for your Peru itinerary.
There is no set way to put your Peru trip together, so be creative and plan in the things you are excited to see.
Some things to keep in mind while planning:
What time of year are you going?
What will the weather be like?
Should you plan for altitude adjustment?
Little things you should be aware of that have a significant effect on your plans.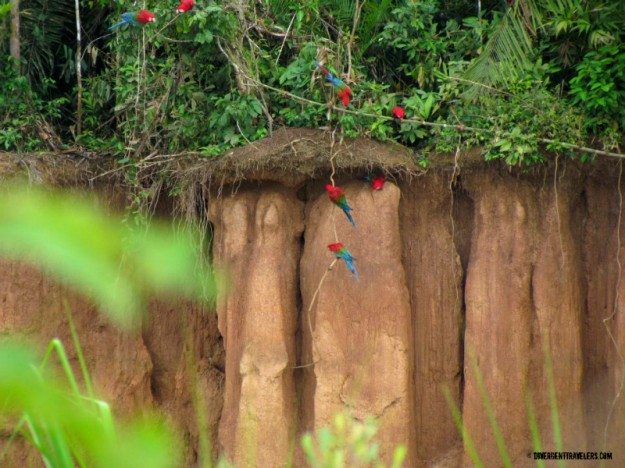 Getting Around Peru
Due to your limited number of days, flying becomes your most logical option. The only exception is taking the bus to visit to the Nazca lines, Ballestas Islands and Huacachina Sand Dunes.
Bus rides are available throughout Peru that will get you to and from Cuzco, Lake Titicaca and Colca Canyon but they take many hours, think 30+, due to the terrain. Those beautiful mountains you came to see make cross country travel difficult and slow.
With only 10 days in Peru, that leaves flying as your best option.
Luckily, Peru operates a few different airlines within the country that you can pick up for cheap prices if you plan ahead. The three airlines to search are:
We used Star Peru for all of our inter-country flights which included: Lima-Puerto Maldonado, Puerto Maldonado-Cuzco and Cuzco-Lima. The tickets ranged from $55-$150 per person for each leg.
HOT TIP for Peru
Do not try to book tickets that are designated for Peruvians only – it will be tempting as they are significantly cheaper – but they will not honor your ticket at the airport during check in.
When we arrived in each new place we utilized the local transportation. Taxis in Lima and Cuzco, Tuk Tuk's in Puerto Maldonado and put many miles on our feet.
Local prices are pretty reasonable and easy to find while you are out and about. If we needed to get from a major place like the airport to the city center, we hailed a taxi but if we wanted to see another site nearby, we walked.
Where to Stay in Peru
With only 10 days in Peru, choosing your accommodation location in Peru is really important.
You want to make sure you are in the thick of things and close to the main attractions to maximize your days.
This alone will help you to not feel rushed and despite what you may hear from people, it is possible to find reasonably priced accommodation in the main areas of each city in Peru.
Speaking from our experience, I would recommend the following places to stay in Peru (all private rooms with bath):
Lima
Miraflores is a clean area with many attractions. You can get a room at a guesthouse or hostel for around $20 per night.
Puerto Maldonado
We stayed at a property near the Madre de Dios as part of the adventure package we booked for the Amazon. However, we researched many independent hostels that were in good locations, near the river for around $10-$25 per night.
Cusco
We stayed at the Hostal Inti Wasi and the location was amazing. We were right next to the Plaza de Armas. You will be in the heart of Cusco if you stay here, within easy walking distance to many shops, food and sights. They also stored our excess stuff when we went to Machu Picchu. Cost was $35 per night.
Aguas Calientes
This little town is loaded with places to stay on any budget. You are at the foot of Machu Picchu and that comes with a price.
We ended up at a small hotel near the train station for $50 per night. Your other option is hiking the Inca Trail. On a 10 day Peru itinerary you have time to do the 2 day / 1 night hike and lodging is included when you book.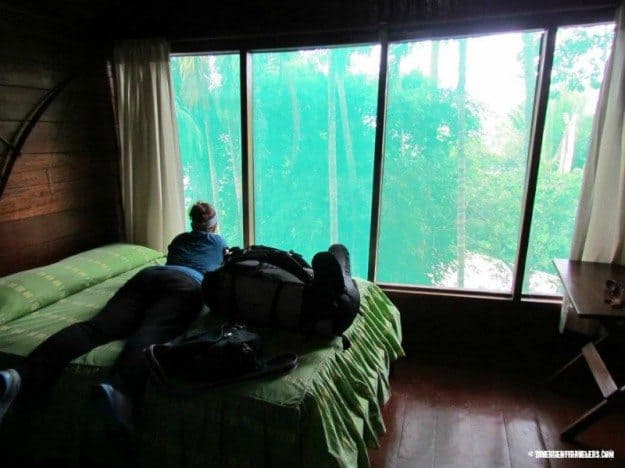 For more places to stay in Peru choose from the largest range of hotels, apartments, and guesthouses with our partner Booking.com. You get free cancelation on most rooms, and in most cases you only pay when you stay.
What Does it Cost to Travel in Peru?
This topic is subjective. Everyone's tastes and opinions of the perfect vacation are different.
The single most important thing is to plan the Peru trip you want around the money you want to spend. We planned a busy 10 day Peru itinerary for ourselves with many activities.
Our budget was $4,000 total for 2 people over 10 days.
We spent:
$1,020 getting to Peru
$700 on inter-country flights
$115 on 4 nights of accommodation
$1,279 on tours that included 4 nights of accommodation
We spent our last night in the airport and when it was all said and done, we came home with $500
Our total spent was $3500, $1750 per person.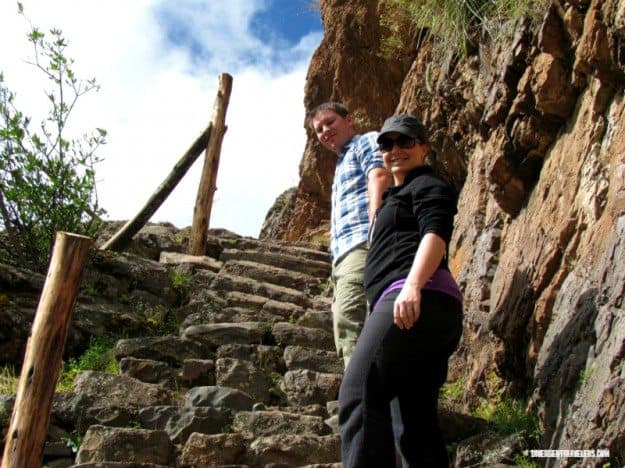 Our Peru itinerary 10 Days
Day 1– Arrived in Lima at 11pm and overnight at B&B Miraflores Wasi.
Day 2 – Slept in then explored Lima, including open top bus tour of the city sights.
Day 3 – Early flight to Puerto Maldonado – delayed due to fog arrived late afternoon. This was the first day of our 4 day adventure with Wasai. Evening spent walking the streets and relaxing in our bungalow overlooking the Madre de Dios River.
Day 4 – Wake up at 4am to visit a Parrot Clay lick, then late morning 4 hour boat ride to the Wasai Tambopata Eco lodge deep in the Amazon Rainforest.
Day 5 – Adventure Package in Amazon Rainforest at Eco Lodge – Macaw clay lick, hiking and kayaking.
Day 6 – Adventure Package in Amazon Rainforest at Eco Lodge – zip lining, tree climbing and hiking.
Day 7 – Early boat ride back to Puerto Maldonado from Eco Lodge to catch our afternoon flight to Cusco. Spent the rest of the day exploring Cusco and adjusting to the altitude
Day 8 – Tour of the Sacred Valley including the Pisaq market, hiking the Sacred Valley and Ollantaytambo. Late afternoon train ride from Ollantaytambo to Aguas Calientes overnight at Pachamama Inn.
Day 9 – Machu Picchu! Late evening return trip to Cusco and overnight at Hostal Inti Wasi.
Day 10 – Morning flight to Lima where we Left our bags in a locker and spent the day at one of the parks. Late night departure home.
Book a Trip to Peru
Accommodation
Booking.com has over 3,000 properties in Peru including hotels, apartments and hostels. You get free cancellation on most rooms and a best price guarantee.
Flights
Skyscanner is a comparison website that searches millions of flights. Once you find your best deal, you book directly through the airline or agent (no extra fees).
Tours in Peru
If you wanted to visit Peru on a tour, check out G Adventure's tours to Peru. They have some of the best, and most reputable + sustainable travel Machu Pichu Peru trips
More Posts on South America
15 unmissable things to do in Rio De Janeiro
20 of the best places to visit in South America
Would you visit South America with a baby?
4 awesome experiences in South America to rave about
5 Places to Visit in Bolivia, South America
A 10 day itinerary of Peru
Sandboarding in Peru
11 Things you need to know before visiting Colombia
Pin Below to share to Pinterest:
[ybox_title]Author BIO[/ybox_title]
Lina from Divergent Travelers has been traveling for 12+ years, solo and with her partner David, while working full time. They have visited 31 countries and are hoping their stories will not only inspire those of you that are thinking about the jump, but also become a place you can visit for support and information in planning and realizing your dreams! You can follow their adventures on their blog and on social media with Facebook and Twitter.