The Chianti Classico is a famous wine growing region in Tuscany Italy.
Located between Florence and Siena, Chianti is characterized by it's medieval towns and picturesque rolling hills covered in forests, vineyards and olive groves, making it one of the most beautiful regions in Italy.
Tuscany, Italy
On a fresh Autumn morning, my wife and I awoke in our rented Tuscan villa to see amazing blue skies outside our window, the sun lighting up the vineyard across from our terrace. After enjoying a delicious alfresco breakfast, we decided to set off for the day to explore the area.
Although driving in Italy can at times be quite hair raising, I found driving through the Tuscan countryside to be relaxing. The roads twist and turn up hills and down through valleys, passing peaceful forests and small farms with their centuries old farm houses, all with their own vineyards, olive groves and vegetable gardens.
After going through several small villages, we headed towards the larger town of Greve in Chianti to stop and explore.
Exploring Chianti
Walking down the narrow cobble stoned streets, we made our way to the main town square. The village seems to have remained as it has always been, it's main piazza surrounded by tiny shops and cafes, with it's beautiful church dominating one end.
We walked around the piazza checking out local handicrafts, sampling meats and cheeses and sitting down to enjoy a cappuccino. Of course we couldn't forget about what Chianti is famous for, it's amazing wine. And there is plenty of it to taste and purchase.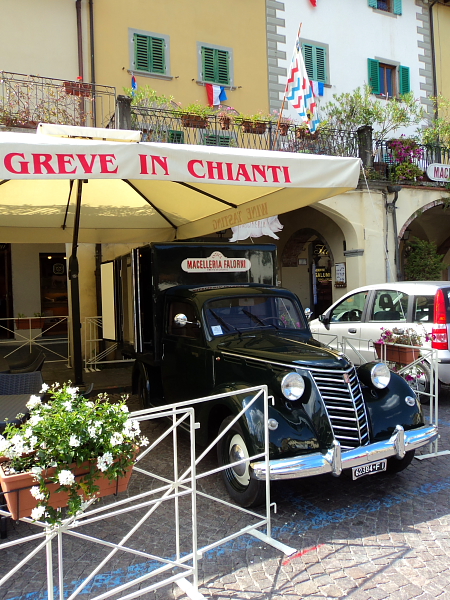 We spent the early afternoon exploring the little streets and climbing up a steep path to get a nice view out across the town, before driving back to our villa.
Chianti Classico
A couple of days later we got to take another drive through the beautiful Chianti Classico on our way to Siena, this time taking us past Greve to another main town in the region, Castellina in Chianti.
Since we were passing by I just had to stop and spend some of our morning exploring the village. Castellina in Chianti is dominated by it's amazing 15th century fortress in the center of town.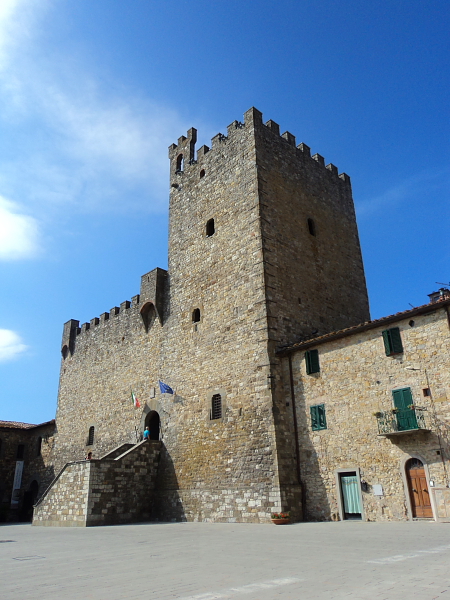 Winding our way through the tiny cobble stoned streets, we stopped at a cafe for a cappuccino and passed by Castellina's old 16th Century church. It seemed as though everyone hadn't even woken up yet as we explored the town, apart from the cafe nothing else seemed to be open yet and very few locals were out and about.
From first impressions it seems like a cozy, sleepy little town with a lot of character and history.
We walked through a tunnel that runs through one of the old medieval walls that surrounded the town, before continuing our drive through the Chianti countryside to Siena.
On our way back from Siena in the warmth of the late afternoon, I took a different route through Radda in Chianti, another beautiful looking village. Driving through the forested hills on the way back to our villa, a deer leaped across the road and continued it's way up the slope. This place just has beauty written all over it.
Having a villa to base ourselves whilst in Tuscany, meant that we could truly experience this area. Shopping for local produce, we got to meet the local people and share this amazing place that they call home.
The lifestyle here is so relaxed and peaceful that I think the Chianti region is a place that I could live for a while.
If you're going to Tuscany, I highly recommend hiring a car and exploring the countryside. Chianti is truly a beautiful place.
Plan Your Trip to Tuscany, Italy
We've been traveling 20 years and have come to rely on a few trusted websites that save us money and time when booking accommodation, flights, and car rental. Below are our preferred partners. If you book through these links, we do receive a small commission at no extra cost to you. It helps us continue to provide inspiring and helpful travel content for free on this site.
Booking accommodation in Tuscany
Booking flights to Tuscany
Skyscanner is a comparison website that searches millions of flights. Once you find your best deal, book directly through the airline (no extra fees).
Booking a Car Rental in Tuscany
RentalCars.com is the world's biggest car rental booking service that compares all the major brands like Hertz, Avis, Alamo, and Europcar.
Tours in Tuscany
More posts about Italy:
Dean is an intrepid traveller from Australia. He travels whenever and where ever he can to explore new places, experience new cultures and taste new food. He hopes to inspire other people to travel through his articles and photos on his travel blog, The Road to Anywhere. You can connect with him on Facebook and Twitter.
Have you been to Tuscany before? Share your experiences in the comments below.