Looking for tips on what to do in Bodrum Turkey?
As part of our city guides series, we interviewed Roving Jay who has been traveling to the Bodrum Peninsula for the past 4 years
Jay shares with us her insider tips on the best things to do in Bodrum, Turkey + best places to eat, stay, drink, and explore.
Why Visit Bodrum Turkey?
The Bodrum Peninsula is located on the western coast of Turkey, and has a distinctly European feel.
It's fringed with a crystal clear stretch of the Aegean, and is only 20 minutes to the nearest Greek Island of Kos. To me, the Bodum Peninsula is a multi-dimensional gem; you just have to venture below the surface to discover it.
Sure Gumbet caters to the 18-30 party crowd; Turkbuku has been touted in the NY Times as Turkey's San Tropez and attracts the glitterati from Istanbul and various European cities; and Turgutreis caters to the British expat community by serving variations of a Full English Breakfast — but that's all surface veneer.
Bodrum has a long history; in-fact the Father of history, Herodotus, was born here. Bodrum is also the location of one of the 7 wonders of the ancient world, and is now home to one of the most prestigious Museums of Underwater Archeology, which is housed in the renovated Bodrum Castle.
In the tourist hubs, there are also plenty of eating, shopping and entertainment options. But, during my trips, I like to step off the well-trodden path; explore the back streets; and immerse myself in daily interactions and activities with the locals.
Things to See and Do in Bodrum
Kick start your stay by adjusting your mindset, and easing yourself into Bodrum's pace of life.
Day Boat Trip on the Bodrum Peninsula
Every coastal destination on the Bodrum Peninsula offers a selection of day boat trips. There's an experience to match your needs; you just have to make a little bit of effort to select the right one.
Avoid the cheap trips touted by the Travel Agents where you could be squashed on a party boat for 70, and served a mediocre lunch. Instead, head down to your local boat harbour (before 10am or after 6pm) and find one of the smaller, independently run boats.
Find a boat that takes a maximum of 10-12 passengers, and offer a relaxing excursion via wind and sails to propel you through the Aegean. Guaranteed you'll decompress from your travels, and pick up some good local recommendations from the Captain and fellow passengers.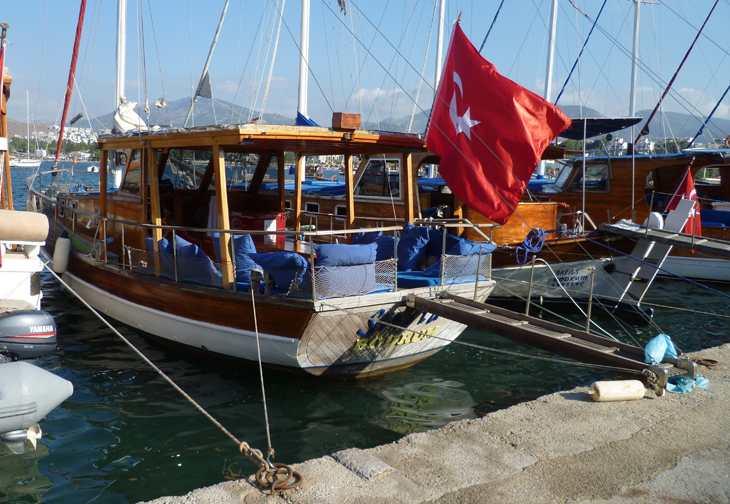 One of my favourite recommendations is a trip aboard the Siesta, which is moored in Bitez. Lunch was a fresh selection of traditional Turkish meze, followed by Kofe kebabs, cooked fresh on the BBQ. Captain Zariff makes sure that each of his passengers enjoys their day – he's a fabulous host.
Turkish Bath (Hamam)
Most of the bigger hotels have Turkish Bath facilities, offered as part of their spa services. There's also a couple of independent Turkish Bath's Bodrum Hamam and Rayola Hamam, Ortaken, but my favourite hamam is one used by the locals.
You'll find the Bardakçı Hamam situated down one of the back streets of Bodrum. It dates back to the mid-1700's, and is the oldest Hamam in the area. Just look past the unassuming exterior and step inside for a memorable Turkish Bath experience.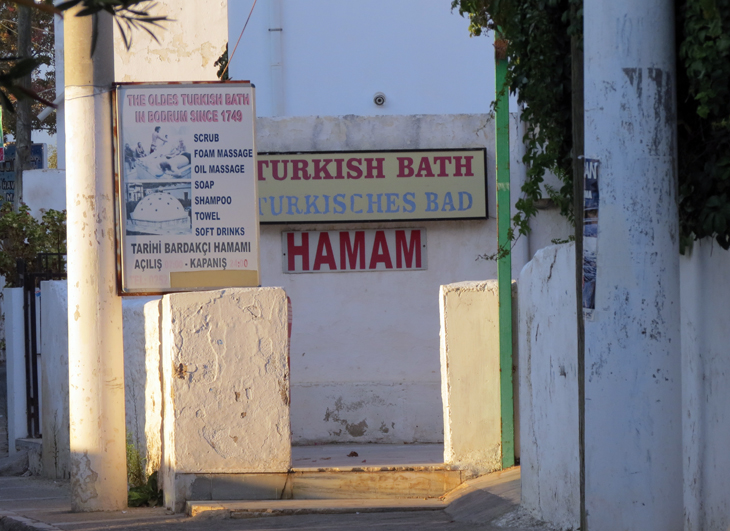 This is no Spa experience! The interior is basic and small, and men and women share the Hot Room area. There's no standing on ceremony, and the service can see a bit rough and abrupt – you may even feel like you've had a turn in a spin-cycle at the end of it.
But the massage is rigorous, adept and appropriate. Out of all the Turkish Baths I've had in the local area and Istanbul, the Bardakçı Hamam is the best.
Tour Bodrum Castle
40 years ago this castle was in ruins, but today its fully renovated and stands proudly in the centre of Bodrum Bay.
As well as housing the Museum of Underwater Archaeology, it's elevated vantage point allows for great views of the surrounding area.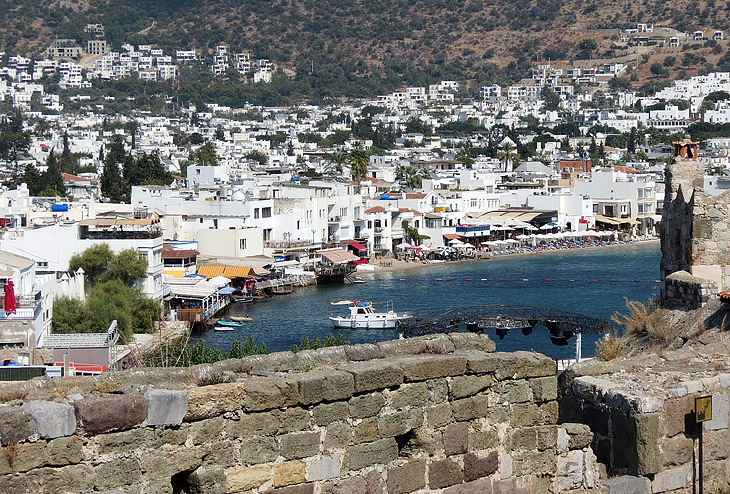 Best Neighborhoods to Explore in Bodrum
Some visitors are drawn to the activity and vibrancy of Bodrum town, where you're spoilt for choice with it's ancient sights, it's shopping, as well as it's restaurants, bars and clubs.
But just walk down any of it's cobbled back-streets, and you'll find small restaurants that cater to the local Turkish crowd. Here, you'll get more for your money as well as a relaxing and authentic dining experience.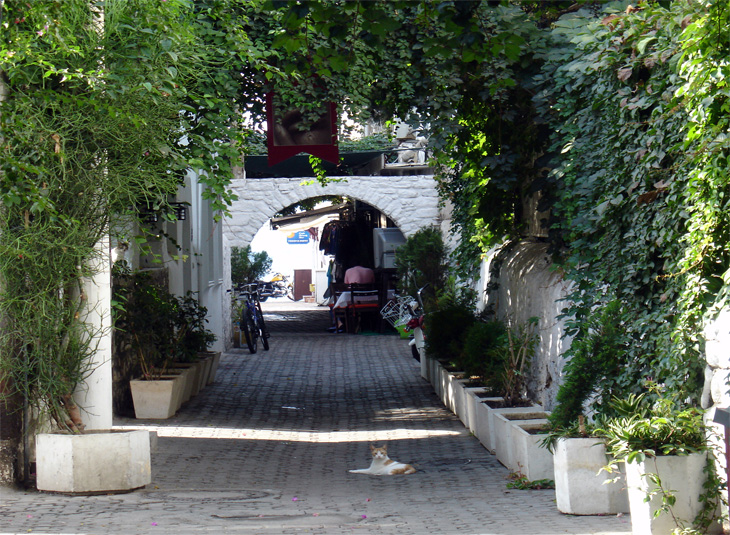 As well as discovering the quiet back streets of the Tourist hubs, the Bodrum Peninsula has an array of quieter villages to explore. Gündoğan, Kucukbuk, Kadikalesi, Gümüşlük and Akyarlar are a few of my coastal favourites.
At the inland villages of Derekoy and Dagbelen you may stand out as one of the few English speaking visitors, and it may be a challenge to order a tea the way you like it, but they both offer a local slice of Turkey, where life is unhurried, and the immediacy of today's modern existence dip slowly out of view like a waning sunset.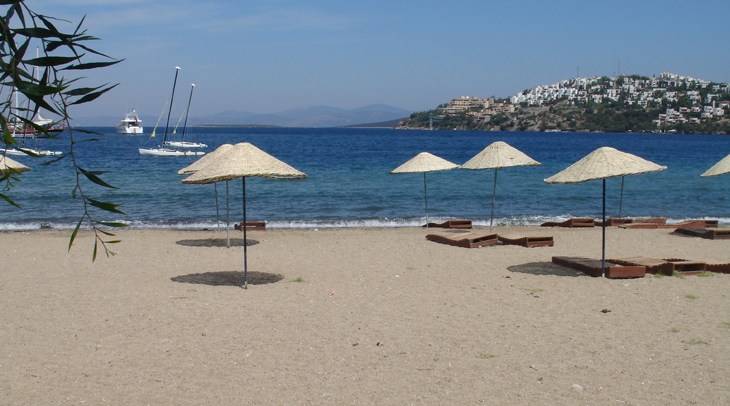 Best places to Eat in Bodrum
Kebabs
Mention Turkish food – especially to a Brit, and they'll recount drunken, post-pub encounters with a doner kebab as it oozes meat juices down your wrist.
The local Turkish version is a lot more appetizing and delicious. A popular kebab is the Tuvak (Chicken) Doner, and you'll see the kebab stands at all of the local towns.
In Bodrum, there's a good selection on offer along Ataturk Cad. (which runs parallel to the bay), a firm favourite is Akyol Bufe.
In Turgutries there's also lots of options, especially around the area close to the location of the Saturday farmer's market. This photo below shows the front of Zeyno, which serves a succulent and flavourful chicken wrap for 3.50TL.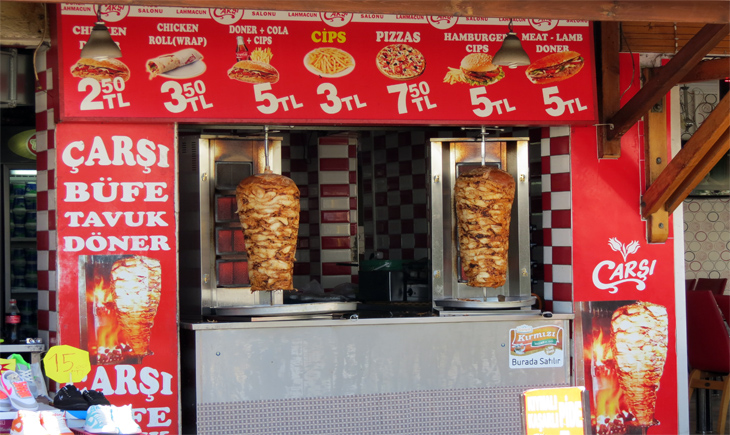 Turkish Breakfast
Try a local restaurant for a traditional Turkish breakfast of salty cheese and olives, served with flavourful tomatoes, and other seasonal local product, all served with fresh bread and homemade local jams and preserves.
A tranquil setting for breakfast in Yalikavak is Gulten Abla. The restaurant is a converted Greek house, with plenty of outside seating in the shade, and is a relaxing place to kick start your day.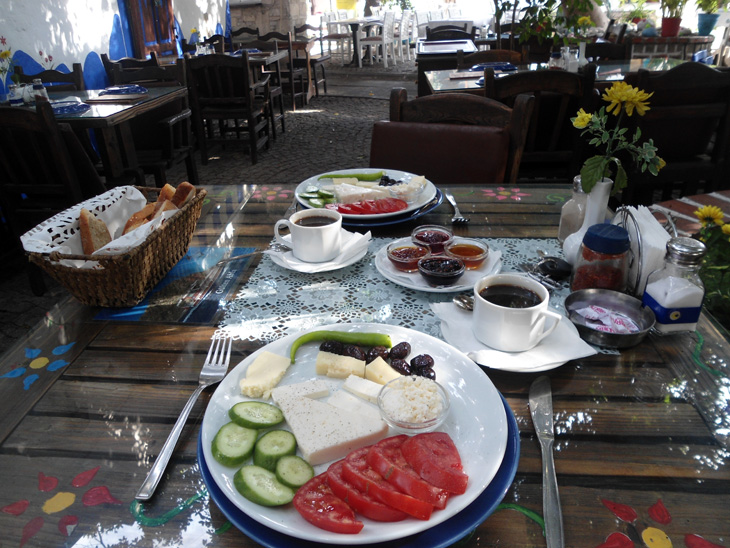 Lokanta's for Lunch
If you're looking for a quick and cheap lunch, head to a local lokanta for a peasant lunch of a bowl of white beans and salad. There's usually no menu, and quite often not a lot of English spoken, but the homemade food is cheap and tasty.
For a great location, that's open long hours, and always seems to attract the locals, visit Dalgiç in Gümüşlük.
Meze for Dinner
A traditional dinner in this area of Turkey, starts with a selection of cold meze, followed by hot meze, a salad and then your choice of fish.
To be honest, when the weathers hot, I much prefer ordering a selection of different meze for dinner. Some of my favourites are Fava (mashed white beans with, oil, garlic and lemon) – and bit like hummus; hydari, made with thick Turkish yogurt, garlic and dill.
Aubergines (egg plant) are a popular base for meze dishes; mashed aubergine and yogurt and garlic; or chopped with fresh, sweet tomatoes, and red chili pepper. You'll find that yogurt, garlic and olive oil are popular meze ingredients.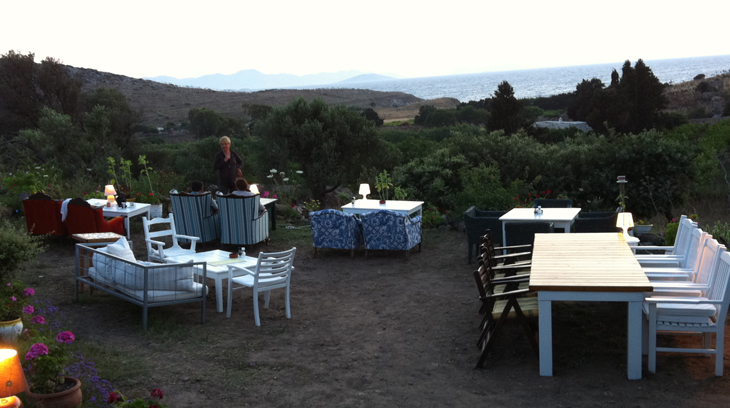 One of the restaurants offering the largest servings of flavour-packed meze is the Limon Cafe, Gümüşlük which offers a fairytale hillside setting for watching the sun set.
Another favourite is Myhane in Kadikalesi, where the garden setting amid citrus trees is a perfect location to enjoy their traditional Turkish music on a Saturday night.
You Can't Visit Bodrum Without Eating ______
Gözleme
Many of the local lokantas serve Gözleme, but I think it tastes more delicious when bought at a local farmers market, and you snack on it as you wander around.
Gözleme are made from large, paper thin circles of dough; filled with any mixture of cheese, vegetables and meat; then folded and cooked on a dome shaped griddle. My preference is for a spicy mixtures of aubergine, tomatoes, onion and white cheese.
Gözleme are very filling, and will keep your hunger at bay. They're the ultimate Turkish street food.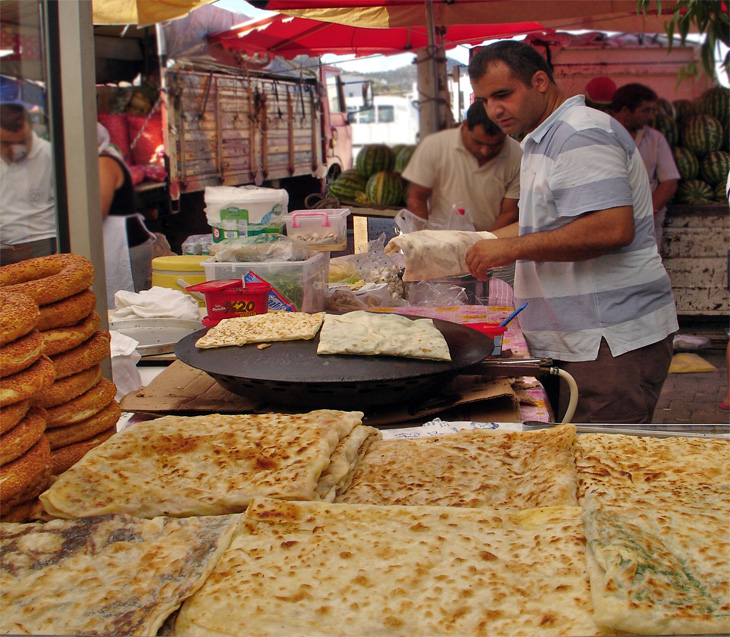 Best places to Drink in Bodrum
You should try a Turkish Coffee, even if it's just once. But don't head to a tourist cafe and pay 6TL for the experience. Instead, opt for one of the local Belediyesi (municipal) cafes, and sample a Turkish coffee where the locals drink, and it'll only set you back about 1.50-2TL.
Many of the towns like Bodrum, Gumbet and Turgurtreis have a "Bar Street", offering a noisy array of bars and clubs to party the night away. You can even visit the local Marina Bars for high price cocktails.
But I much prefer a beach-front table, to watch the sun go down whilst enjoying an ice cold local Efes Pilsen beer.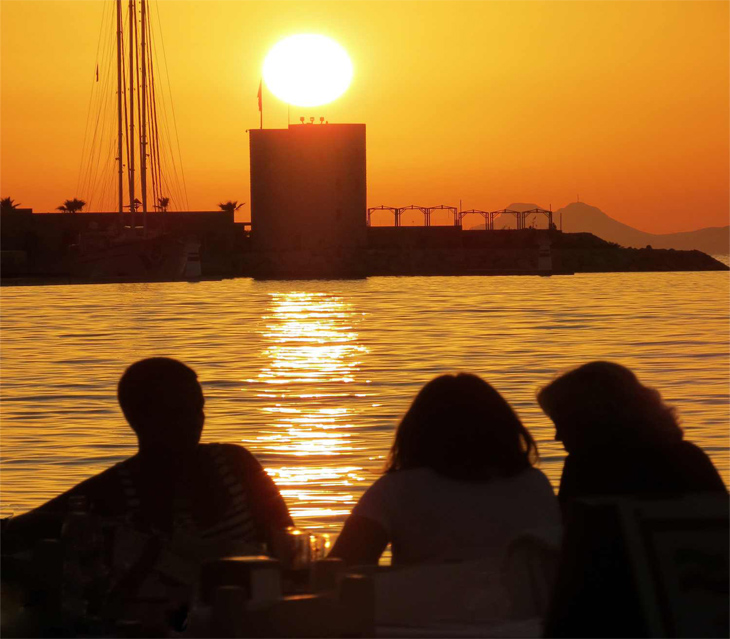 Places for a Night on the Town in Bodrum
Halikarnas Night Club is an impressive venue, offering an unforgettable night of partying. But if you'd prefer to go offshore; both Bodrum and Turgutreis offer glass-bottomed catamaran night clubs, where you can party til dawn with a view of the Aegean at your feet.
Best Markets and Shopping in Bodrum
Each town and village has a weekly farmers market, and the larger locations also have a pazaar section that includes fake designer clothes, textiles, house wares and tourist trinkets.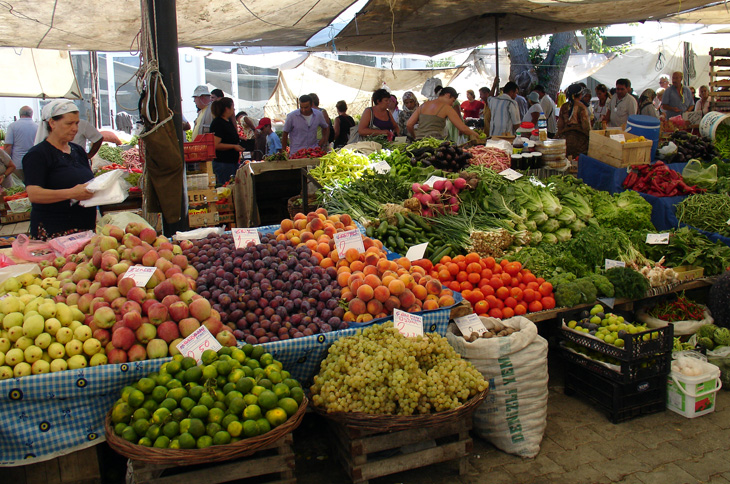 The craft markets stalls of Gümüşlük and Yalikavak, offer unique hand made crafts that are better quality and more unique than the mass produced items available in a lot of the shops. Especially those in the tourist trap areas.
Major Events and Festivals in Bodrum
The newly renovated and expanded Marnia's in Bodrum, Turgutreis and Yalikavak, each hold annual Classical Music festivals.
Turgutreis and Yalikavak have their own small amphitheatres, and Bodrum holds events in Bodrum Castle and also in the renovated ancient amphitheatre situated in the hills above Bodrum, which has sweeping views of the Bay and it's Castle.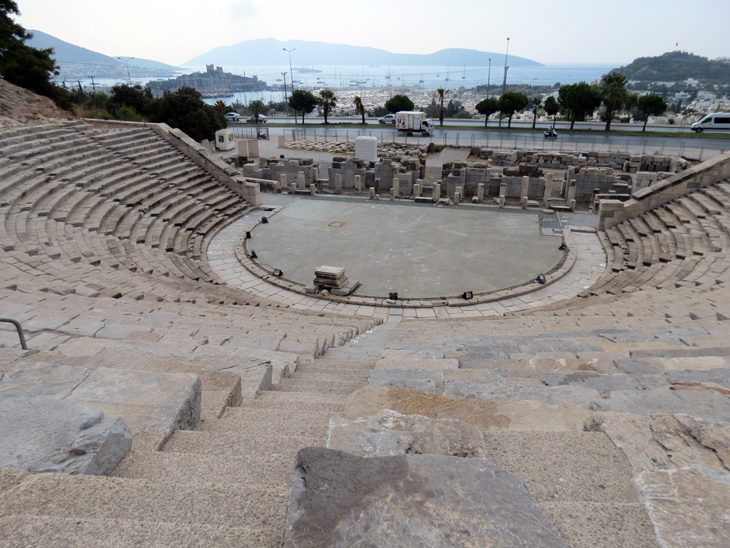 Another popular Classical International Music Event is held in Gümüşlük each year at the old Eklisia Greek Church behind the dolmus station.
The grounds are opened up for overflow seating, and it's a relaxed setting for a month's worth of classical performances.
Getting Around Bodrum
The cheapest way to travel between the different towns and villages on the Peninsula is by Dolmuş. These small passenger vans zip between locations with convenient frequency.
As this is also the standard mode of transport for the village locals, the dolmuş can get packed, but that's all part of the adventure.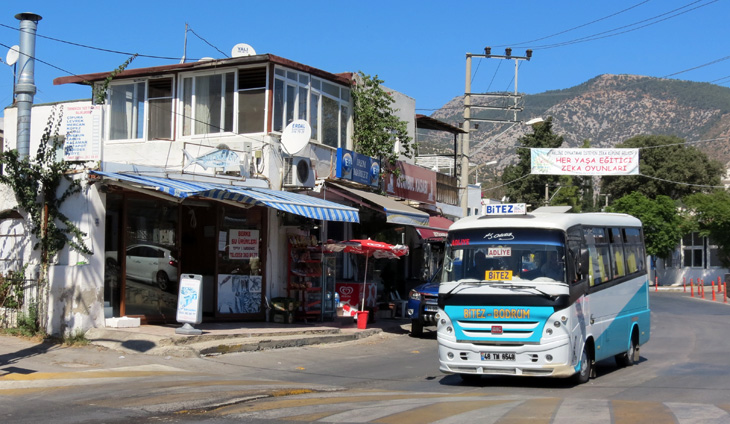 During peak season, the dolmuş start early in the morning and run to early the next morning. Each town has a central dolmuş station and you can flag one down anywhere along its route.
Fares and routes are posted on the windscreen, and you pass your money to the driver via the other passengers – change comes back the same way.
Is Bodrum WiFi friendly
Most of the restaurants and bars in the tourist hubs have WiFi, as do the hotels. Plot up, buy a drink, and they'll be happy for you to use the free WiFi.
Most of the larger towns have Internet Cafes, and it's only 1 or 2 TL for an hour.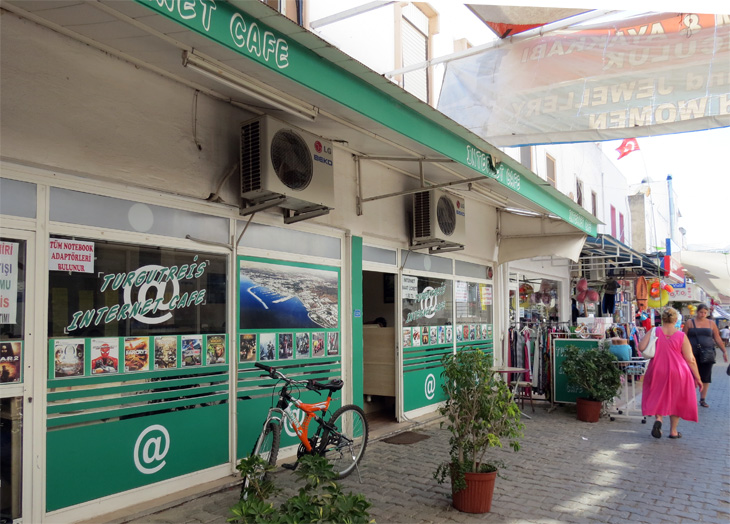 Best Time of Year to Visit Bodrum
Although the peak season in July and August, and the weather can top 100f/38c degrees, the larger towns like Bodrum can become an unpleasant crush of tourists, especially in it's pedestrian shopping areas.
Instead, I'd recommend visiting during one of the season-shoulder months of June or September, when it's still hot, but the crowds have thinned and the public transport is still regular, but not as packed.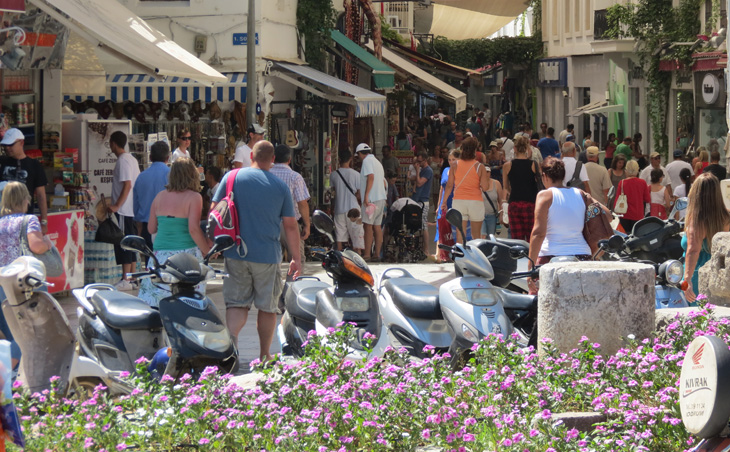 Favorite Bodrum Side trip
Day trips are touted in all of the tourist hubs. One of the most popular is a day trip to Ephesus. It's a 3 hour journey in each direction, and there's an excursions that will get you there and back in a day, giving you 1/2 day to tour this ancient Greek site.
We wanted more flexibility when we visited Ephesus, so we rented a car, and stayed overnight in the nearby town of Selcuk, and then spent a leisurely morning touring Ephesus, and stopped off at a local Kusadasi beach on the way back to Bodrum.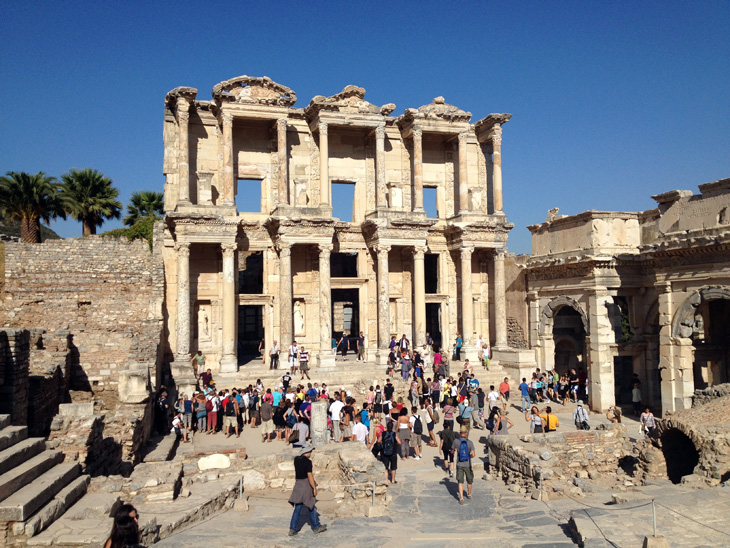 If you'd prefer to tour ancient ruins a little bit closer to the Bodrum Peninsula, on the other side of the Milas-Bodrum airport is the ancient city of Iassos, and in the hills above Bodrum, is the ancient city of Pedesa.
While neither of these are in the same league as Ephesus, they'll get you your ancient-site fix. You can hike up to Pedesa from Bodrum, but you'll need a car for Iassos – and that trip will take you about 90 minutes from Bodrum.
But that being said – my favourite full day away from the Peninsula, has to be a boat trip.
Getting There and Away
By Air
The Milas-Bodrum airport has been newly renovated, and during the season, there's a number of cheap package tour operators that offer flight-only deals. One of the most established Turkish Airlines is Pegasus, and of course there's Turkish Airlines offering scheduled flights from an expansive list of locations.
If you're flying in from other Turkish cities, like Istanbul or Izmir, there's a couple of good options for domestic carriers; Onurair and Atlasjet.
By Road
One of the national companies is Metro Turizm and they have lots of routes spanning the entire country. Another popular company that services the Aegean region is Pamukkale.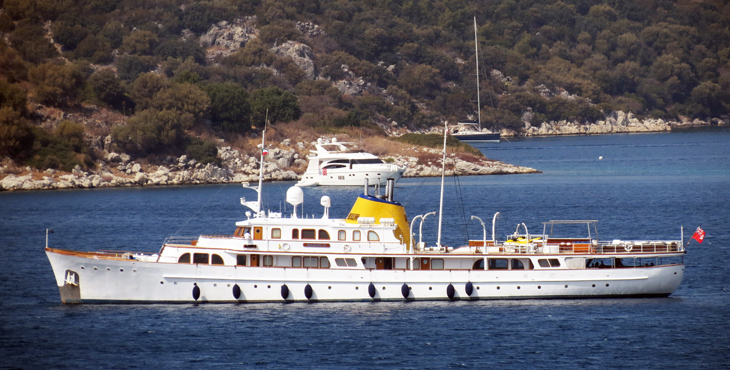 By Sea
Turkish and Greek ferry companies service Bodrum and Turgutureis. You can arrive via one of the Greek Islands of Kos, Rhodes and Kalymnos. Depending on the season, frequency of routes will vary, and different services are offered via; Bodrum Express Lines, Yeşil Marmaris Line and Bodrum Ferry Boat.
Bodrum is also a Cruise-line destination welcoming waves of day trippers, and is also a busy port of call for those enjoying a Blue Cruise on a traditional locally charted gullet or on their own personal yacht.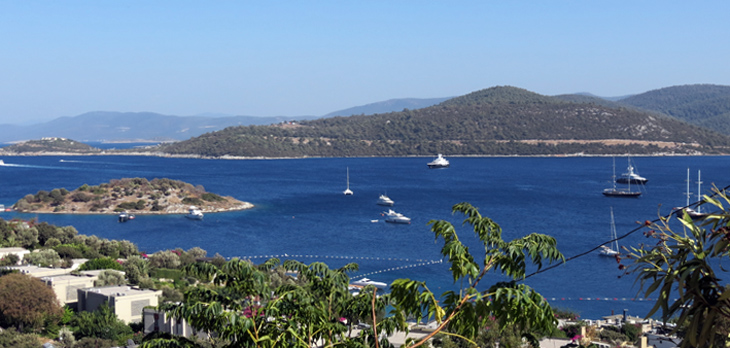 Best insiders tip for Bodrum, Turkey?
On the surface, the Bodrum Peninsula may seem like a high-priced tourist trap pandering to the cruise line crowd; the all-inclusive holiday-makers; and the city-dwellers, looking for some beach-action.
But at any of the coastal locations, you don't have to venture very far from the main thoroughfares to find good local businesses, with non-tourist prices.
Many of the excursions offered by the Travel Agents so prevalent in the tourist areas, can actually be arranged independently by using the local dolmuş service, and a sense of adventure. This approach not only saves you money, but adds flexibility to your schedule.
I love Bodrum because ________
…it's a holiday-destination Jekyll and Hyde. It's mass tourism, and quaint local-ism.
It is heaving crowds, squashed into narrow cobbled streets haggling for bargains; but it's also sparse farmer's markets milling with locals.
It is sipping expensive cocktails in open-air night clubs, pumping dance music 'til dawn; and it's enjoying a harbour-side cup of Turkish Coffee, as the fisherman survey the landscape at dawn's early light.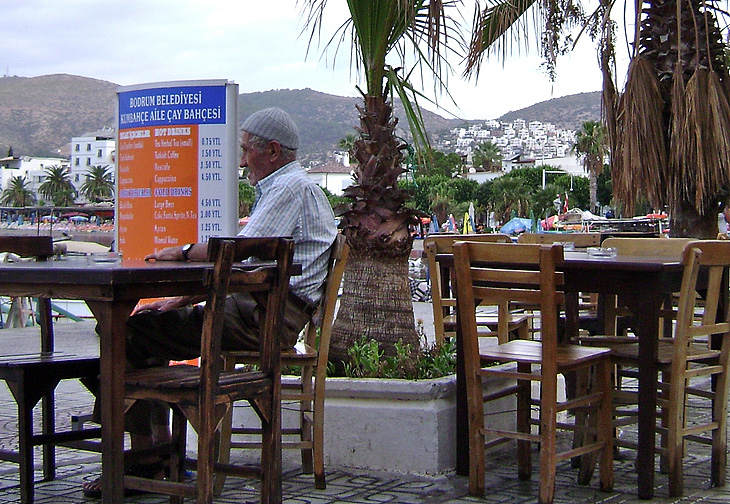 When you visit the Bodrum Peninsula, you have two choices: Either it comes at you full force and you just let it just wash over you; or you go in search of it's other, quieter side, and eek-out the memories you're in search of.
I'm a frequent visitor to the Bodrum Peninsula, and each time I visit, I always manage to unearth some new little gem lying in wait for me.
About the Author:
Roving Jay writes and publishes the on-line Bodrum Peninsula Travel Guide, and her first ebook "Bodrum Peninsula Travel Guide: Discover Turkey's Aegean Gem" will be released on Amazon in Spring 2013. Jay's had a 4 year love affair with this corner of Turkey, and keeps the memories alive by writing about her adventures and sharing her local knowledge with other visitors to the area.
Plan your trip to Bodrum, Turkey
Accommodation in Bodrum
Flights to Bodrum


Skyscanner is a comparison website that searches millions of flights. Once you find your best deal, book directly through the airline (no extra fees).

Car Rental in Bodrum
Connect with Roving Jay on Twitter, Facebook, and become a fan of Roving Jay's Bodrum Peninsula Facebook page
Do you have any tips for what to do in Bodrum Turkey?