This post may contain affiliate links. We may receive a small commission, at no cost to you, if you make a purchase. Read Disclosure.
Bodrum is a popular tourist hot spot in Turkey known for having world-class family-friendly resorts, stunning beaches and, for the younger crowd, amazing nightlife. But if you're not sure what to do in Bodrum Turkey, then you've come to the right place.
As part of our city guides series, we interviewed Roving Jay who has been traveling to the Bodrum Peninsula for the past 4 years. We were lucky enough to get some inside advice and guidance to the best things to do in Bodrum, as well as some tips for places to eat, stay, drink, and explore.
If you're planning on visiting Bodrum but you're not sure what attractions will keep you busy, read on to see some of the best things to do on the Bodrum peninsula.
Why Visit Bodrum Turkey?
The Bodrum Peninsula has a distinctly European feel. It's fringed with a crystal clear stretch of the Aegean Sea, and is only 20 minutes to the nearest Greek Island of Kos. To me, the Bodum Peninsula is a multi-dimensional gem; you just have to venture below the surface to discover it.
Sure the Gumbet area caters to the 18-30 party crowd; but just a short drive North to Turkbuku and you'll discover a place that has been touted in the NY Times as "Turkey's San Tropez" and attracts the glitterati from Istanbul and various European cities.
Bodrum has a long history; in fact, the Father of history, Herodotus, was born here. Bodrum is also near to not one, but two of the 7 wonders of the ancient world, as well as being home to one of the most prestigious Museums of Underwater Archeology, which is housed in the Bodrum Castle.
In the tourist hubs, there are also plenty of eating, shopping, and entertainment options. But, during my trips, I like to step off the well-trodden path; explore the back streets, and immerse myself in daily interactions and activities with the locals.
Getting Around Bodrum, Turkey
Bodrum is a peninsula on the South West side of Turkey. It connects to the Aegean Sea in the North and the Mediterranean in the South.
You can get around Bodrum using the minibusses (Dolmuş in Turkish) and while they are a cheap way to get around, many of them operate on Turkish time – they show up when they feel like it. Don't worry though, they do show up eventually.
These small passenger vans zip between locations and, although it's the standard mode of transport for the village locals, the dolmuş can get packed, but that's all part of the adventure.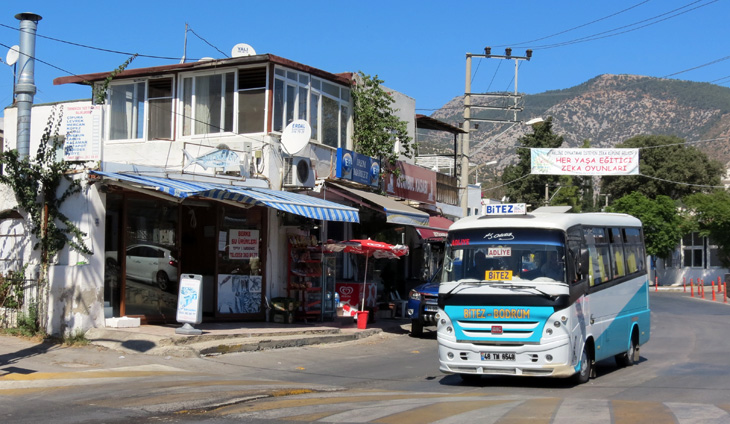 During peak season, the dolmuş starts early in the morning and runs to early the next morning. Each town has a central dolmuş station and you can flag one down anywhere along its route.
Fares and routes are posted on the windscreen, and you pass your money to the driver via the other passengers – a change comes back the same way.
Because public transport is somewhat unreliable, we recommend you hire a car to get around Bodrum. This is by far the quickest way to see all the attractions in Bodrum without having to wait for a long time for a bus.
17 Top Things to Do in Bodrum
Now you know a little bit about how to get around the sites, it's time to take a look at the best Bodrum attractions! Kickstart your stay by adjusting your mindset, and easing yourself into Bodrum's pace of life.
Let's take a look at what to do in Bodrum…
1. Full Day Boat Trip on the Bodrum Peninsula
Every coastal destination on the Bodrum Peninsula offers a selection of day boat trips, it's one of the best things to do in Bodrum with family. There's an experience to match your needs; you just have to make a little bit of effort to select the right one.
Avoid the cheap trips touted by the Travel Agents where you could be squashed on a party boat for 70, and served a mediocre lunch. Instead, head down to your local boat harbour (before 10am or after 6pm) and find one of the smaller, independently run boats.
Find a boat that takes a maximum of 10-12 passengers, and offer a relaxing excursion via wind and sails to propel you through the Aegean. Guaranteed you'll decompress from your travels, and pick up some good local recommendations from the Captain and fellow passengers.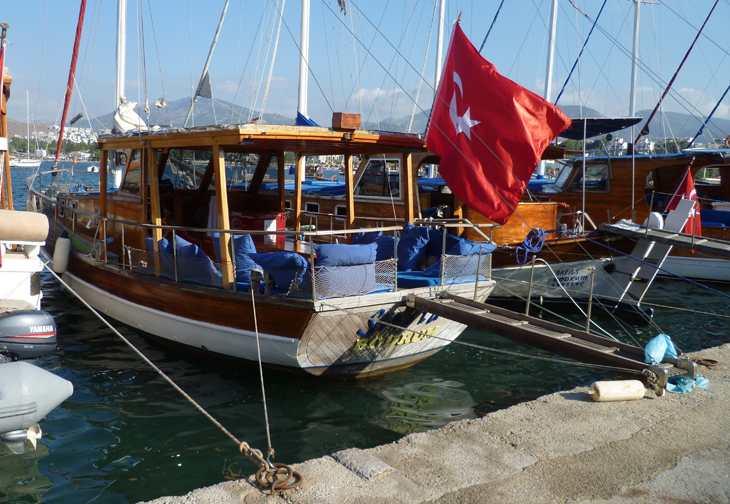 One of my favourite recommendations is a trip aboard the Siesta, which is moored in Bitez. Lunch was a fresh selection of traditional Turkish meze, followed by Kofe kebabs, cooked fresh on the BBQ. Captain Zariff makes sure that each of his passengers enjoys their day – he's a fabulous host.
2. Enjoy a Turkish Bath (Hamam)
Most of the bigger hotels have Turkish Bath facilities, offered as part of their spa services. There are also a couple of independent Turkish Baths such as Bodrum Hamam and Rayola Hamam, Ortaken, but my favourite hamam is one used by the locals.
You'll find the Bardakçı Hamam situated down one of the back streets of Bodrum. It dates back to the mid-1700's, and is the oldest Hamam in the area. Just look past the unassuming exterior and step inside for a memorable Turkish Bath experience.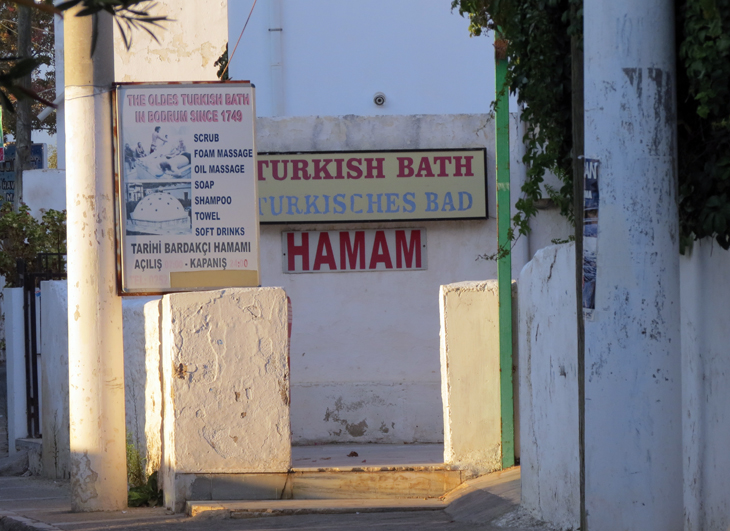 This is no Spa experience! The interior is basic and small, and men and women share the Hot Room area. There's no standing on ceremony, and the service can seem a bit rough and abrupt – you may even feel like you've had a turn in a spin-cycle at the end of it.
But the massage is rigorous, adept,, and appropriate. Out of all the Turkish Baths I've had in the local area and Istanbul, the Bardakçı Hamam is the best.
3. Tour Bodrum Castle & The Bodrum Museum Of Underwater Archaeology
40 years ago this castle was in ruins, but today it's fully renovated and stands proudly in the centre of Bodrum Bay. Bodrum Castle, otherwise known as Castle of St Peter, was built in 1402 by the Knights Hospitaller, or Knights of St John.
The walls have been remarkably well-preserved and the turrets and towers give the castle a fairytale like quality.
As well as housing the Museum of Underwater Archaeology, its elevated vantage point allows for great views of the surrounding area.
The museum is the largest museum in the world that's solely dedicated to underwater archaeology. Visitors can gaze upon its ancient vases, jewelry and a huge hoard of Mycenaean copper ingots, Ancient Egyptian seals, Roman amphorae, and Medieval Islamic glassware.
The museums extensive collection is a fascinating insight into Bodrums ancient history, as well as offering a glimpse of discoveries from beneath the waves.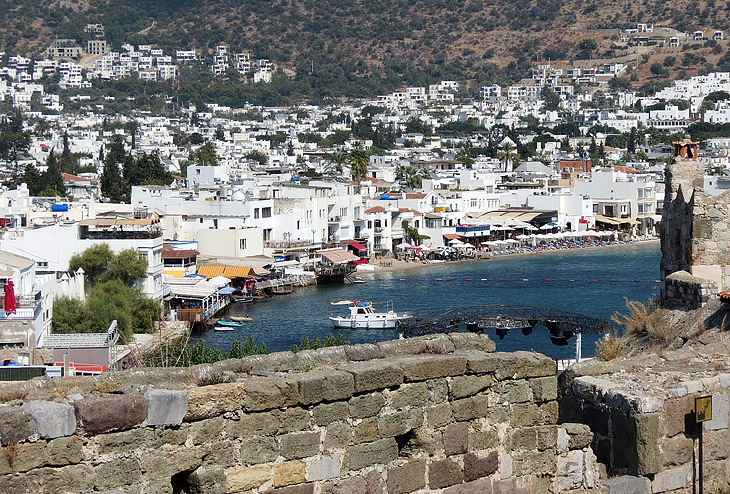 4. Explore the Markets and Shopping in Bodrum
Each town and village has a weekly farmers market, and the larger locations also have a pazaar section that includes fake designer clothes, textiles, housewares, and tourist trinkets.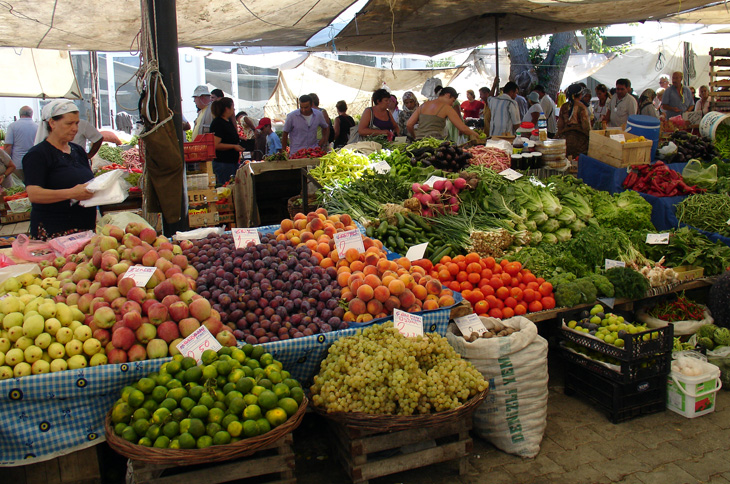 The craft markets stalls of Gümüşlük and Yalikavak, offer unique hand made crafts that are better quality and more unique than the mass produced items available in a lot of the shops. Especially those in the tourist trap areas.
5. Wander the Neighborhoods in Bodrum
Some visitors are drawn to the activity and vibrancy of Bodrum town, where you're spoilt for choice with its ancient sights, shopping, restaurants, bars, and clubs.
But just walk down any of its cobbled backstreets, and you'll find small restaurants that cater to the local Turkish crowd. Here, you'll get more for your money as well as a relaxing and authentic dining experience.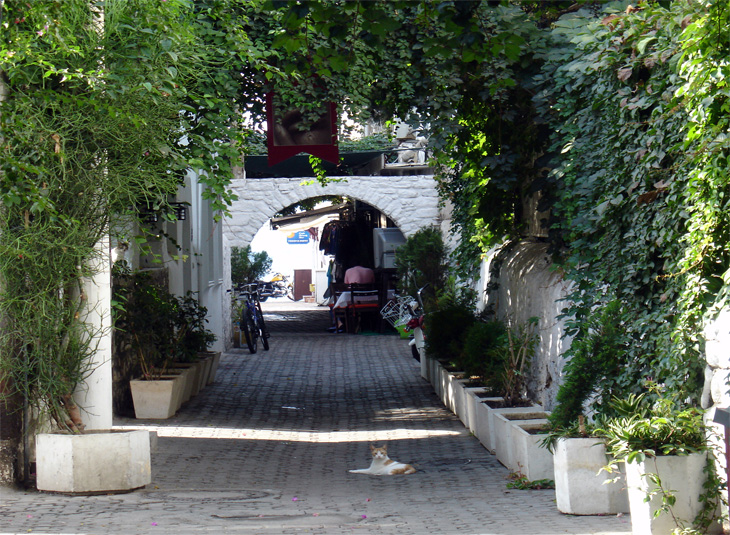 As well as discovering the quiet back streets of the Tourist hubs, the Bodrum Peninsula has an array of quieter villages to explore. Gündoğan, Kucukbuk, Kadikalesi, Gümüşlük and Akyarlar are a few of my coastal favourites.
At the inland villages of Derekoy and Dagbelen you may stand out as one of the few English-speaking visitors, and it may be a challenge to order a tea the way you like it, but they both offer a local slice of Turkey, where life is unhurried, and the immediacy of today's modern existence dip slowly out of view like a waning sunset.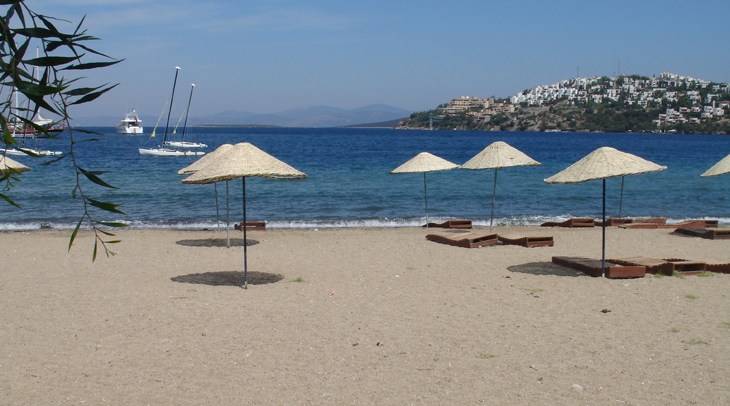 6. Drink Turkish Coffee in a Local Belediyesi (Cafe)
You should try Turkish Coffee, even if it's just once. But don't head to a tourist cafe and pay 6TL for the experience. Instead, opt for one of the local Belediyesi (municipal) cafes, and sample a Turkish coffee where the locals drink, and it'll only set you back about 1.50-2TL.
Many of the towns like Bodrum, Gumbet, and Turgurtreis have a "Bar Street", offering a noisy array of bars and clubs to party the night away. You can even visit the local Marina Bars for high price cocktails.
But I much prefer a beach-front table, to watch the sun go down whilst enjoying an ice cold local Efes Pilsen beer.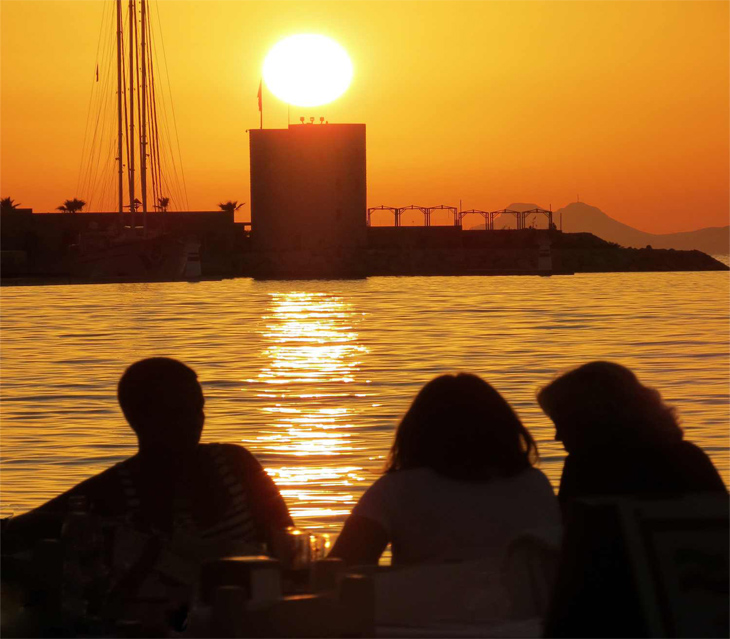 7. Dance the Night Away on the Town in Bodrum
Bodrum is famed for its nightlife and you'll find plenty of beach bars, nightclubs and live music venues throughout the town of Bodrum.
Halikarnas Night Club strong> is an impressive venue, offering an unforgettable night of partying. But if you'd prefer to go offshore; both Bodrum and Turgutreis offer glass-bottomed catamaran night clubs, where you can party til dawn with a view of the Aegean at your feet.
8. Attend a Classical Music Festival
The Marnia's in Bodrum, Turgutreis and Yalikavak, each holds annual Classical Music festivals.
Turgutreis and Yalikavak have their own small amphitheaters, and Bodrum holds events in Bodrum Castle and also in the renovated ancient Bodrum amphitheatre situated in the hills above Bodrum, which has sweeping views of the Bay and its Castle.
Sit on the marble steps and admire the views of Bodrum Old town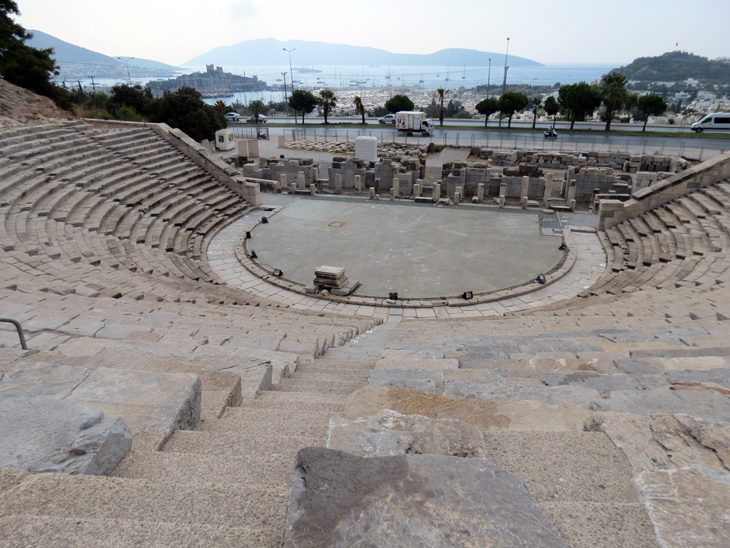 Another popular Classical International Music Event is held in Gümüşlük each year at the old Eklisia Greek Church behind the dolmus station.
The grounds are opened up for overflow seating, and it's a relaxed setting for a month's worth of classical performances and concerts.
You can learn more about Turkey's most famous singer at the Zeki Muren Arts Museum.
9. Take a Day Trip to Ephesus
Day trips are touted in all of the tourist hubs. One of the most popular is a day trip to Ephesus. It's a 3 hour journey in each direction, and there's an excursions that will get you there and back in a day, giving you 1/2 day to tour this ancient Greek site.
We wanted more flexibility when we visited Ephesus, so we rented a car, and stayed overnight in the nearby town of Selcuk, and then spent a leisurely morning touring Ephesus, and stopped off at a local Kusadasi beach on the way back to Bodrum.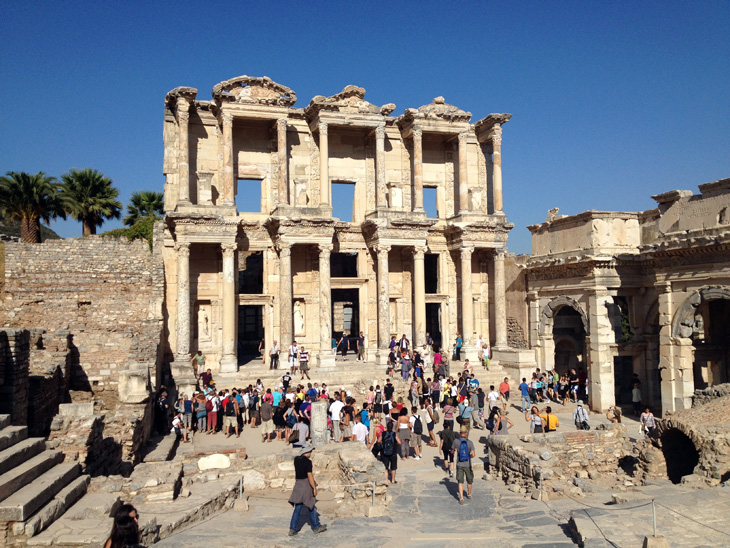 If you'd prefer to tour ancient ruins a little bit closer to the Bodrum Peninsula, on the other side of the Milas-Bodrum airport is the ancient city of Iassos, and in the hills above Bodrum, is the ancient city of Pedesa.
While neither of these are in the same league as Ephesus, they'll get you your ancient-site fix. You can hike up to Pedesa from Bodrum, but you'll need a car for Iassos – and that trip will take you about 90 minutes from Bodrum.
But that being said – my favourite full day away from the Peninsula, has to be a boat trip.
Ephesus was declared a UNESCO World Heritage Site in 2015 with the Temple of Artemis regarded as one of the Seven Wonders of the Ancient World.
Want to visit Ephesus with ease? Then check out these tours to Ephesus from Bodrum.
From Izmir: Full-Day Ephesus Tour: Discover House of the Virgin Mary, Ancient City of Ephesus, Temple of Artemis, and Sirince in a shared or private group tour from Izmir. Visit an old village and enjoy lunch at a local restaurant. Book your experience here.
Ephesus Entry Ticket with Mobile Phone Audio Tour Skip the line and enjoy a hassle-free visit to Ephesus archaeological site using an immersive self-guided audio tour on your mobile phone. Get your tickets here.
Getting To and From Ephesus:
By Air:
The Milas-Bodrum airport offers a number of cheap package tours that offer flight-only deals. One of the most established Turkish Airlines is Pegasus, and of course there's Turkish Airlines offering scheduled flights from an expansive list of locations.
If you're flying in from other Turkish cities, like Istanbul or Izmir, there's a couple of good options for domestic carriers; Onurair and Atlasjet.
By road:
One of the national companies is Metro Turizm and they have lots of routes spanning the entire country. Another popular company that services the Aegean region is Pamukkale.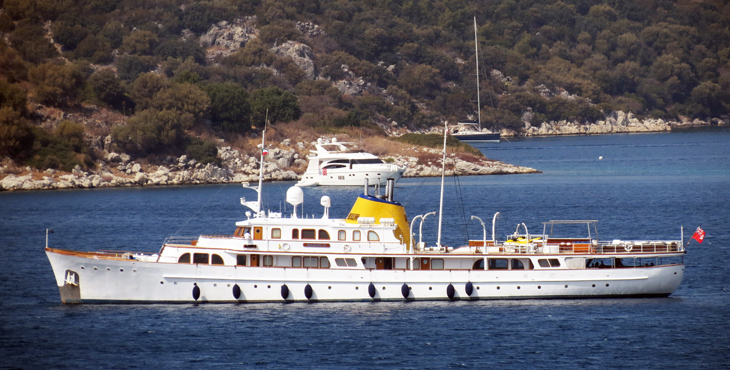 By ferry:
Turkish and Greek ferry companies service Bodrum and Turgutureis. You can arrive via one of the Greek Islands of Kos, Rhodes and Kalymnos. Depending on the season, frequency of routes will vary, and different services are offered via; Bodrum Express Lines, Yeşil Marmaris Line and Bodrum Ferry Boat.
Bodrum is also a Cruise-line destination welcoming waves of day trippers, and is also a busy port of call for those enjoying a Blue Cruise on a traditional locally charted gullet or on their own personal yacht.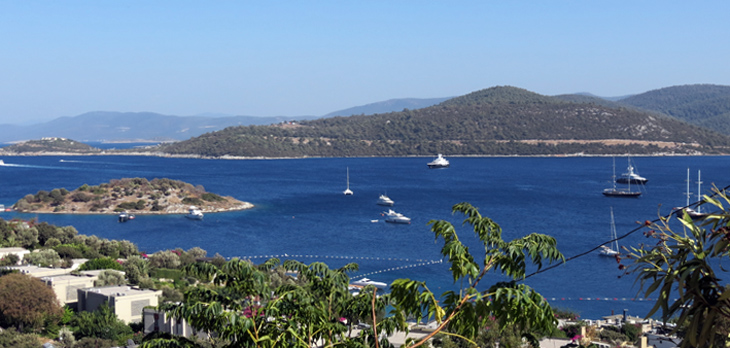 10. Scuba Dive Century-Old Shipwrecks
The crystal clear water and beautiful underwater environment is why Bodrum is a hot spot for diving. There are plenty of great locations to dive and see some marine life in the Mediterranean and Aegean Oceans.
You can also dive to numerous shipwrecks, and even a plane wreck, off the coast of Bodrum.
Some of the shipwrecks worth scuba diving to see are the SG 115, a retired coast guard boat that sunk in 2007. The C-47 Dakota, which was a retired Turkish Air Force plane that sunk in 2008 by BOSAD, and also has an artificial reef, as well as the Pınar 1, which was a retired Navy Coastguard ship used as a water tanker. It was sunk in May 2007 by BOSAD.
11. Bathe on the Calm Camel Beach
Bodrum is well known for its beaches and so it wouldn't be right to visit the area and not explore some of the stunning coastline. Many of the public beaches in Bodrum are blue flag beaches, which means they adhere to the government's standards of cleanliness and natural beauty.
A famous beach in Bodrum is Camel Beach, which is famous for having camels on the beach (hense the name). It's also a great family-friendly beach with a shallow shoreline, crystal clear water and some shady spots to retreat to when the sun gets too hot.
Another popular beach you might want to check out is Bardakci Cove, which is another beautiful spot in Bodrum for swimming.
12. Wander Around Milta Bodrum Marina
The Bodrum Marina is a relaxing place to stroll around and admire all the luxurious yachts that dock here. You'll find plenty of upscale restaurants, boutique stores and beach bars to sip cocktails in.
If you're looking for relaxing things to do in Bodrum, then this has to be top of your places to visit.
13. Visit the Mausoleum of Halicarnassus
If you're looking for historical things to do in Bodrum, the most iconic historic landmark in the area is the Mausoleum of Halicarnassus.
Very little remains of Halicarnassus, but the mausoleum itself. The tomb was built in the 4th century BC, between 353-350. It was built for Mausolus, and his sister/wife Artemisia || of Caria.
It was designed by the Greeks and has similar features to those found in Lycia.
The tombs is stunning, with sculptural reliefs on each of its four sides, which were said to have each been designed by four Greek sculptures.
The mausoleum is so beautiful and architecturally monumental, that it was dubbed one of the Seven Wonders of the Ancient World.
It has been largely damaged due to earthquakes but you can still admire its beauty.
14. Take a Day Trip to Greece
Once upon a thousand years ago, Bodrum was considered part of Greece. It became Bodrum of Turkey in 1522 after Suleiman the Magnificent took over rule of Turkey.
But it still remains close enough to some Greek islands that it's possible to take a day trip there.
One island that is popular for a day trip is Kos. This is largely because of its proximity, but also because it's stunning.
Kos is known for its stunning sandy beaches and Ancient Greek and Roman landmarks, particularly the harbor town which is where you'll find the 15th-century Neratzia Castle. You can also see the Ancient Agora ruins, and a 3rd-century Casa Romana villa which is known for its gorgeous mosaics.
15. Walk in the Footsteps of Alexander the Great at Myndos Gate
The Myndos Gate is located in the far western side of Bodrum and is the remains of the old city wall from the Ancient City of Halicarnassus.
There is not a huge amount to see of the gate, but the remains stand on a cliff which offer breathtaking views of the bay and surrounding landscapes.
If you're looking for free things to do in Bodrum, this is a good choice.
16. Roam Around the Bodrum Windmills
One of the most famous sites of Bodrum is the seven windmills that stand between central Bodrum and Gumbet, which overlooks two gorgeous bays.
If you enjoy hiking, a hike up to the windmills is certainly an activity in Bodrum not to be skipped.
The windmills were used in 18th century, but were closed in the late 1800s. The windmills have seen better days, but the views from them are unmatched.
17. Eat Your Heart Out on Turkish Food
Turkish food is more than just grilled meat and kebabs, though you can find this too. You'll find Turkish food can also be quite healthy in some dishes, and all of them are delicious. Here are some dishes we recommend you check out.
1. Kebabs
Mention Turkish food – especially to a Brit, and they'll recount drunken, post-pub encounters with a doner kebab as it oozes meat juices down your wrist.
The local Turkish version is a lot more appetizing and delicious. A popular kebab is the Tuvak (Chicken) Doner, and you'll see the kebab stands in all of the local resort towns.
In Bodrum, there's a good selection on offer along Ataturk Cad. (which runs parallel to the bay), a firm favourite is Akyol Bufe.
In Turgutries there are also lots of options, especially around the area close to the location of the Saturday farmer's market. The photo below shows the front of Zeyno, which serves a succulent and flavourful chicken wrap for 3.50TL.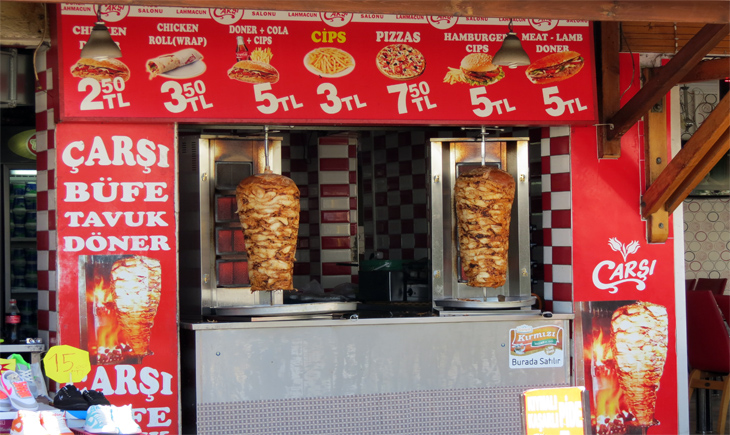 2. Turkish Breakfast
Try a local restaurant for a traditional Turkish breakfast of salty cheese and olives, served with flavourful tomatoes, and other seasonal local products, all served with fresh bread and homemade local jams and preserves.
A tranquil setting for breakfast in Yalikavak is Gulten Abla. The restaurant is a converted Greek house, with plenty of outside seating in the shade, and is a relaxing place to kick start your day.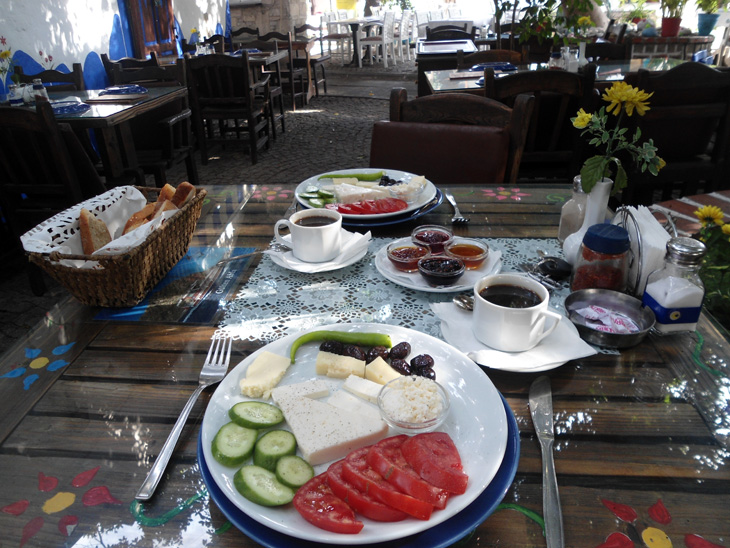 3. Lokanta's for Lunch
If you're looking for a quick and cheap lunch, head to a local lokanta for a peasant lunch of a bowl of white beans and salad. There's usually no menu, and quite often not a lot of English spoken, but the homemade food is cheap and tasty.
For a great location, that's open for long hours, and always seems to attract the locals, visit Dalgiç in Gümüşlük.
4. Meze for Dinner
A traditional dinner in this area of Turkey starts with a selection of cold meze, followed by hot meze, a salad, and then your choice of fish.
To be honest, when the weather is hot, I much prefer ordering a selection of different meze for dinner. Some of my favourites are Fava (mashed white beans with, oil, garlic, and lemon) – and a bit like hummus; hydari, made with thick Turkish yogurt, garlic, and dill.
Aubergines (eggplant) are a popular base for meze dishes; mashed aubergine and yogurt and garlic; or chopped with fresh, sweet tomatoes, and red chili pepper. You'll find that yogurt, garlic, and olive oil are popular meze ingredients.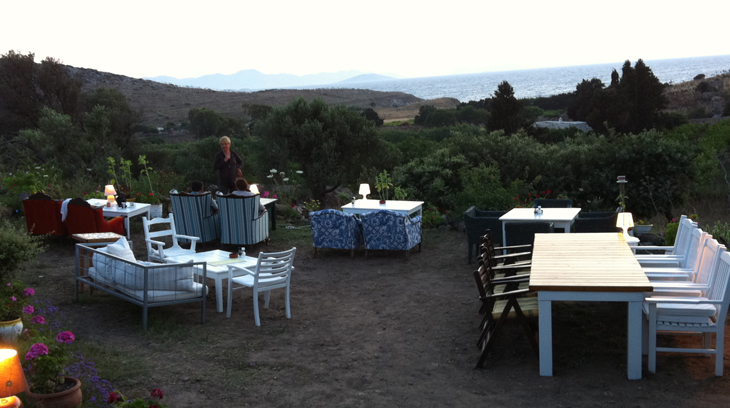 One of the best restaurants in Bodrum offering the largest servings of flavour-packed meze is the Limon Cafe, Gümüşlük which offers a fairytale hillside setting for watching the sunset.
Another favourite is Myhane in Kadikalesi, where the garden setting amid citrus trees is a perfect location to enjoy their traditional Turkish music on a Saturday night.
5. Gözleme
Many of the local lokantas serve Gözleme, but I think it tastes more delicious when bought at a local farmers market, and you snack on it as you wander around.
Gözleme is made from large, paper-thin circles of dough; filled with any mixture of cheese, vegetables, and meat; then folded and cooked on a dome-shaped griddle. My preference is for a spicy mixture of aubergine, tomatoes, onion, and white cheese.
Gözleme is very filling and will keep your hunger at bay. They're the ultimate Turkish street food.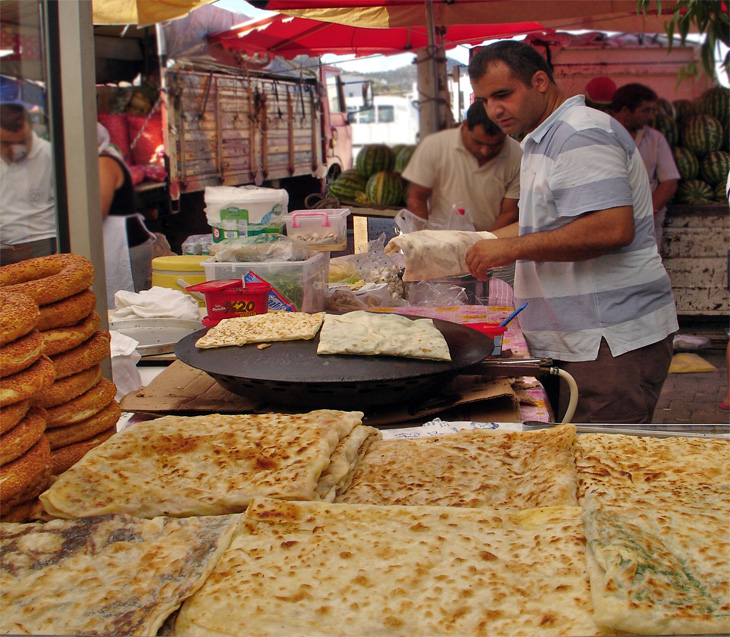 FAQs About Visiting Bodrum
Here's what people usually ask me about visiting Bodrum…
Is Bodrum WiFi friendly?
Most of the restaurants and bars in the tourist hubs have WiFi, as do the hotels. Plot up, buy a drink, and they'll be happy for you to use the free WiFi.
Most of the larger towns have Internet Cafes, and it's only 1 or 2 TL for an hour.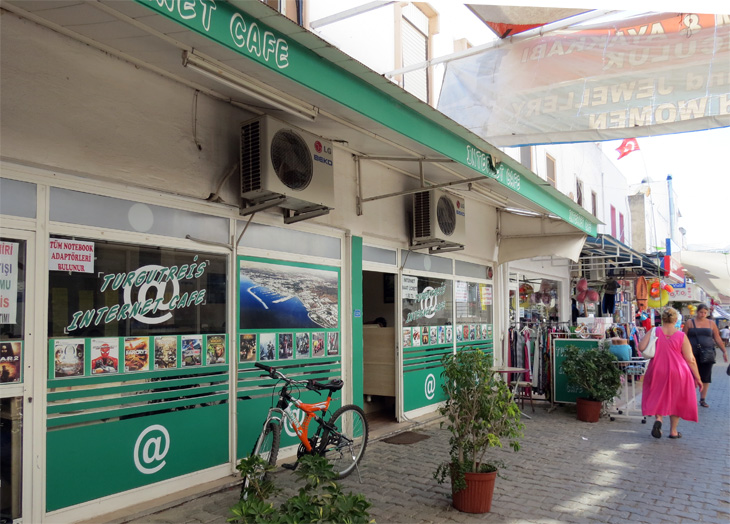 What is the Best Time of Year to Visit Bodrum?
Although the peak season in July and August, and the weather can top 100f/38c degrees, the larger towns like Bodrum can become an unpleasant crush of tourists, especially in its pedestrian shopping areas.
Instead, I'd recommend visiting during one of the season-shoulder months of June or September, when it's still hot, but the crowds have thinned and the public transport is still regular, but not as packed.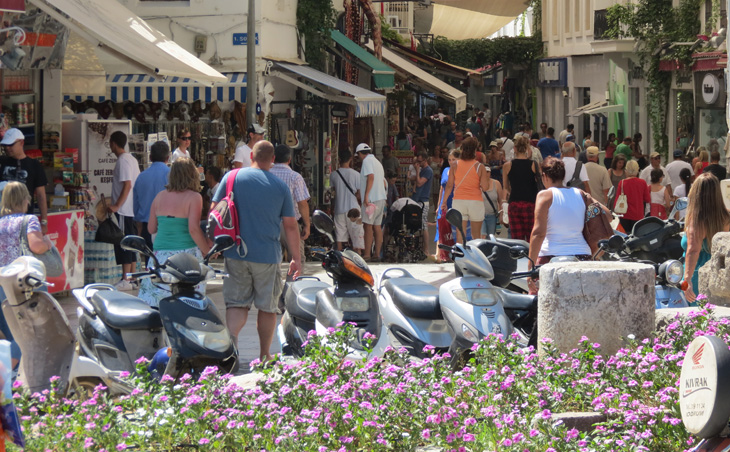 How many days do you need in Bodrum?
Because Bodrum is a peninsula with so many beaches and tourist attractions to explore, you could stay anywhere from five days to a week. You could stretch a vacation out to two weeks if you wanted to, but we recommend the ideal amount of time to spend in Bodrum is a week.
Tips for Visiting Bodrum
Book your accommodation in advance. Bodrum is a popular tourist spot, especially for families, which means hotels and apartments often get booked up. Plan ahead and save yourself some money and stress.
Watch out for the sun. If you're visiting Bodrum in the summer, be mindful that the sun can get strong and there's very little cloud cover. Stay out of the heat in the middle of the day and wear sun protection.
Get travel insurance. If you're planning on visiting in April – September, there is a chance that Bodrum is met with forest fires. This can have a big impact on your trip and in some cases may even mean you have to cancel it 🙁
But at any of the coastal locations, you don't have to venture very far from the main thoroughfares to find good local businesses, with non-tourist prices. Book tours and excursions by the Travel Agents in the tourist areas, or do it yourself using the local dolmuş service.
Be mindful of earthquakes. Though a serious earthquake hasn't happened in Bodrum for many years, there are still often tremours. Read up on what to do during an earthquake before you go just in case.
Need some more inspiration about traveling to Turkey? Check out the below resources.
Before You Go
As you can see, Bodrum has a lot to offer, and it's not all beaches and partying. It's a fantastic destination for families and you'll never run out of things to do in Bodrum.
I love Bodrum because it's a holiday-destination Jekyll and Hyde. Its mass tourism, and quaint local-ism.
It is heaving crowds, squashed into narrow cobbled streets haggling for bargains; but it's also sparse farmer's markets milling with locals.
It is sipping expensive cocktails in open-air night clubs, pumping dance music 'til dawn; and it's enjoying a harbour-side cup of Turkish Coffee, as the fisherman survey the landscape at dawn's early light.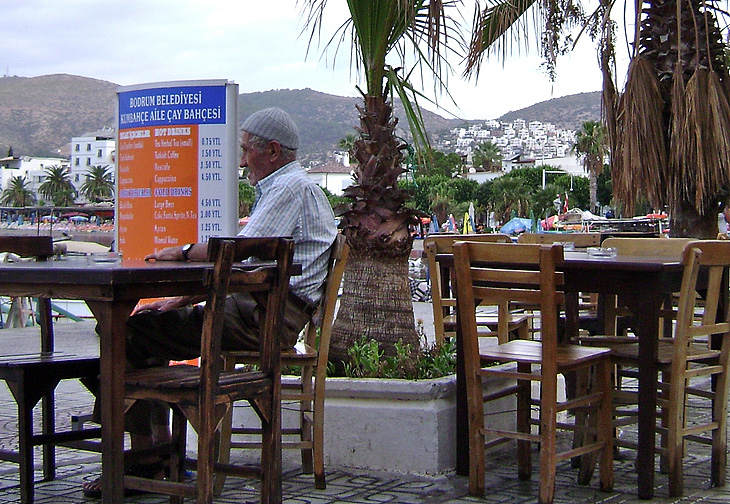 When you visit the Bodrum Peninsula, you have two choices: either it comes at you full force and you just let it just wash over you; or you go in search of its other, quieter side, and eek-out the memories you're in search of.
I'm a frequent visitor to the Bodrum Peninsula, and each time I visit, I always manage to unearth some new little gem lying in wait for me.
If you came to this guide not knowing what to do in Bodrum, we hope you do now! We wish you an incredible time on your trip to Bodrum!
About the Author:
Roving Jay writes and publishes the on-line Bodrum Peninsula Travel Guide, and her first ebook "Bodrum Peninsula Travel Guide: Discover Turkey's Aegean Gem" will be released on Amazon in Spring 2013. Jay's had a 4 year love affair with this corner of Turkey, and keeps the memories alive by writing about her adventures and sharing her local knowledge with other visitors to the area.
If you liked this post, please consider sharing it. And if you are on Pinterest, you can pin the below image to save for later!
Do you have any tips for what to do in Bodrum Turkey? Let us know in the comments.