The Hunter Valley is one of Australia's most famous and popular wine growing regions.
It is only a two hour drive north of Sydney, which makes it a very attractive destination for any traveller.
There's beauty in the Hunter Valley and surrounding Broke Mountains, there's fine dining, world class wines, gourmet chocolate, adventures like hot air ballooning, and relaxing spa treatments and massages.
Believe it or not, there is also something there for families, as we recently discovered on our weekend family getaway to the Hunter Valley.
Beautiful gardens, mini golf, playgrounds, and family singing fun driving through the vineyards.
The Hunter Valley is a popular place for weddings, hens and bucks nights, girls getaways and male golfing weekends.
Here's a lowdown of the different Hunter Valley wine trails you can enjoy…
Lovedale Road Trail
The Lovedale Road trail is quiet and unhurried with many boutique wineries, a chocolate factory, and fine restaurants.
Lovedale Long Lunch, an infamous day of music food and wine crawls happens in the Hunter Valley each May. This year it will be held on the weekend of May 19th and 20th.
Gartelmann's Magpie Cafe had inexpensive, fresh, and healthy home made lunches by a pretty lake and fountain in the forest.
We also recommend visiting Emma's Cottage, a very small winery with an art gallery and pizza cafe attached.
Wandin Valley Estate is also named after one of Australia's most famous TV shows from the eighties; the writer producer once owned the vineyard. We scored a carton of 12 bottles of shiraz for $50 here on sale. And it's good too!
Pokolbin Road Trail
If you want to avoid the hens and bucks parties then do not go down this Pokolbin Road in the Hunter Valley.
If you like buzz, big name vineyards, and elbowing people away at the wine tasting bar then this is the road for you. The most popular road in the region filled with the biggest names in Australian wine like Lindemans and Rosemount.
Pokolbin Road is the heart of the Hunter Valley, the place where it all began.
Our picks are Tempus Two, Tyrell's, McGuigan Brothers and Harrigan's Irish Pub for lunch.
Mount View Trail
The place for spectacular views of the valley with very little traffic. Drive up to Bimbadeen Lookout for spectacular views of the Valley and the Brokenback Range.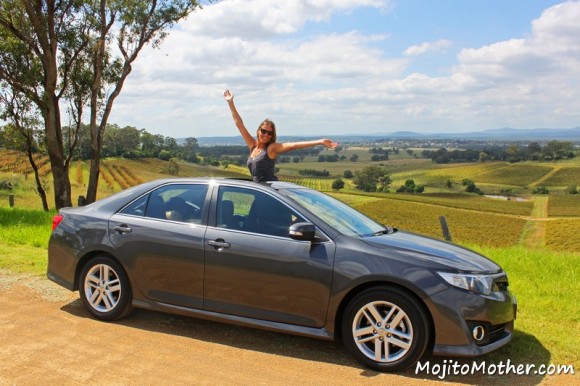 Check out Tallevera Grove. The verandah overlooking the Mount View Valley and vineyards looks a beautiful setting for lunch.
Then of course at the bottom of the drive you need to stop into Savannah Estate. Not only does boasts our daughter's name, but it has really great wine as well.
Other Things to See and Do in the Hunter Valley
Wine Tours
Unless you have a driver who is happy to escort you while you spend the day tasting glasses of Semillon, Shiraz and Verdelho that the region is famous for, we would suggest joining a wine tour.
That means you are free to taste and not worry about limitations and responsibilities. We cannot recommend any tour companies but you can look at the Hunter Valley website for suggestions.
Hunter Valley Gardens
Situated along Broke Road on the Pokolbin trail, the Hunter Valley Gardens is a peaceful place to retreat.
There are the beautiful formal gardens you can wander around for a price of $20 (ouch) or you can bring your own picnic and enjoy the free park across the lake. There's mini golf, aqua golf and a quaint village where you can dine out or shop at boutique stores.
A Day on the Green
Keep your eyes and ears out for the summer outdoor concerts that happen in the Hunter Valley every year. What better way to enjoy the valley and the wines then sitting on a picnic blanket listening to artists like Elton John and Sting.
Keep an eye on the Day on the Green website for upcoming artists.
Visit a Brewery
We have been so focused on wine every time we come here we are yet to visit a brewery. We have heard all great things about the boutique beers that are brewed in the region.
Check out Potters Brewery, Hunter Beer and the Blue Tongue Lizard Brewery, which is more mainstream beer.
Cheese, Chocolate and Gourmet Food
As well as wine and beer there is also locally made produce for you to sample and buy. Olive oils, marinades, cheeses, and chocolates  can all be found in small stores or in the vineyards themselves.
I really enjoyed trying chili chocolate for the first time!
Places to Stay
There are not many budget style accommodations in the Hunter Region but you can find some in the nearby town of Cessnock. There is a Hunter Valley YHA backpackers who can also organize wine tasting tours.
We recently stayed at the Crowne Plaza, and if you want to splurge and have a bit of luxury this is the place to go. One of the nicest resorts I've stayed in. If you get a group of you and hire out a villa you will reduce your costs. It is also a golfing resort.