This post may contain affiliate links. We may receive a small commission, at no cost to you, if you make a purchase. Read Disclosure.
The Hunter Valley Wine Region is one of Australia's most famous and popular wine growing regions. As such, anyone visiting Hunter Valley should consider looking at one of the many Hunter Valley wine tasting tours.
Since it's only a two hour drive north of Sydney, many tours take place from Sydney, but if you are also visiting the region on a road trip north, then you can find tours from the region itself.
The problem is, there are so many wine tasting tours in Hunter Valley to choose from, that it can be difficult to separate the wheat from the chaff.
That's why I prepared this guide, which compares the Hunter Valley wine tasting tours so you can decide on the right one for you. I'll also share some wine trails in Hunter Valley that you can take yourself if you don't want to book an organized tour.
Where is Hunter Valley?
But first, where is Hunter Valley? Hunter Valley is Australia's oldest wine region located in the New South Wales province of Australia, just 2 hours north of Sydney.
It's known for its wine production, specifically of the Semillon, Shiraz, Chardonnay, and Cabernet Sauvignon types. Many of Australia's premier brands produce their wines here.
Hunter Valley Winery Tours
Unless you have a driver who is happy to escort you while you spend the day tasting glasses of Semillon, Shiraz, and Verdelho that the region is famous for, we would suggest joining a wine tour.
That means you are free to taste and not worry about limitations and responsibilities. We cannot recommend any tour companies, we've personally taken but you can look at the Hunter Valley website for suggestions.
We have some suggestions here from tours we've researched and feel confident recommending.
Half Day Tour from Hunter Valley
If you're short on time, then a half-day wine tours in Hunter Valley are the best option. While you don't see much of the hunter valley region in half a day, you do get to sample the wineries and the fresh local wines.
You can choose to have a pickup in the morning or afternoon, so you can plan other things around your tour that allow you to see other parts of the region.
The morning tour departs at 10.00am from either Nulkaba, Lovedale, Pokolbin, Cessnock or Rothbury. You will then be taken to three locations where you will enjoy wine tasting at a boutique cellar door and learn all about the wines and the region. You will then visit a distillery and a cheese shop, before ending the tour with lunch.
The afternoon tour starts at 3.00pm, and includes three stops – a boutique winery where you will do wine tasting and learn about the region, a distillery, and then an artisan chocolate shop.
Check out prices and availability for half day Hunter Valley wine tours from Sydney here:
Full Day Tour from Sydney
If you're thinking of visiting the Hunter Valley wine region on a day trip from Sydney, then a full day tour is the ideal way to experience the region.
You will be picked up from your hotel by your tour guide and driver for the day, and taken through the beautiful rolling hills and of the valley, before visiting a boutique winery, where you can learn about the making process and try a few glasses of wine, from reds to whites.
You will then have a gourmet lunch, followed by a stop at a cheese shop, chocolate and fudge factory, and the famous The Hunter Distillery for a vodka tasting experience.
You will leave Sydney at around 7.00am and return at 6.30pm
If your only interest in Hunter Valley is for the wine, then this is a great day trip. However, note that it's 2 hours driving there and back, so you will spend a lot of time in a car that day.
Full Day Hunter Valley Small Group Tour from Hunter Valley
If you are planning to stay in the Hunter Valley region for a while and want to explore other things to do there, then this is the best wine tasting tour in Hunter Valley for you.
It's a full day tour and goes to three wineries in total, as well as a cheese shop, chocolate shop, and the famous The Hunter Valley Distillery where you can try vodka, schnapps, and other liqueurs.
Because it's a small group tour, you get to see the best places in the area without having to wait around for a coach load of people to come back to the bus.
You also have a knowledgeable guide at each stop who will offer guided tasting experiences with the local supplier, as well as take some behind-the-scenes tours at select locations.
The tour starts at 10.00am and ends at around 6.30pm, and if you are staying in Lovedale, Pokolbin, or Rothbury you can arrange to be picked up.
Hunter Valley Tours from Newcastle
Are you looking for a fun day out from Newcastle? Newcastle is a short 40-minute drive from Hunter Valley and is one of the main stops along the Pacific Highway road trip from Sydney to Brisbane.
Because it's a popular city to visit with so many things to do, you might want to stay there and take a day trip into Hunter Valley region.
If a day is all you need, this is a much better option than taking a tour from Sydney since the drive from Newcastle is much shorter, allowing you to visit more places in Hunter Valley.
The Newcastle to Hunter Valley wine tasting tour takes you to three boutique wineries, a cheese tasting stop, chocolate tasting stop, and a distillery. It also includes a gourmet lunch.
It's basically the same tour as the small group tour mentioned above, but it leaves from Newcastle, meaning it's a great option for those not wanting to stay in Hunter Valley.
Tour of Tintilla Estate
While I've shown you some wine tasting tours that take you on a route around the wineries so far, if you prefer to have a more intimate experience, then a visit to the Tintilla Estate might be more to your taste.
The Tintilla Estate is a boutique vineyard that has been producing wine since the late 90s. On this wine experience, you can sample eight of the wines from their winery, as well as try some other products from the grounds such as olives.
The wine is served with a mini banquet of meats and cheese from the region, as well as other snacks. To top it off, this experience is for up to 8 people, so you get a really intimate and tailored experience.
For wine enthusiasts, this is one of the hidden gems of Hunter Valley.
Brokenwood's wine and canape pairing tour
Another intimate wine tasting experience in Hunter Valley is at Brokenwood's cellar tour, a boutique winery that has been creating award-winning wine since 1970.
Once you arrive at Brokenwood, you will be greeted by a friendly concierge who will show you to the tasting room, where you will get to enjoy up to 6 of Brokenwood's finest wines, paired with delicious bite-sized seasonal canapés.
You do need to make your own way to Brokenwood so you will need to have your own car, but it will be worth the trek as you miss all the tour buses. Click here for a car rental if you need it.
Tulloch Wine and Cheese Tour
Tullock Wines have been producing wines for over 125 years (or four generations). On this unique wine tasting tour, you will enjoy a private seated tasting session with a Wine Ambassador for Tulloch wines, where you will taste five newly released wines and 1 museum aged wine.
You will also be given a cheese and charcuterie board to pair it with and an individual tasting mat.
As a souvenir, you will receive a tasting guide to take home.
Children aged 3-12 are able to accompany adults on this tour and there are some kid-friendly activities provided for them while the adults taste.
For that reason, this is one of the best wine tasting tours in Hunter Valley for families.
Masterclass at Audrey Wilkinson Vineyard
Wine lovers may enjoy learning the craft for themselves at one of the best winemakers venues in Hunter Valley, Audrey Wilkinson Vineyard, which has been operating since 1866.
On this tour, you will be able to take a self-guided tour of the onsite museum and learn about how a young boy, Audrey, took over his father's wine estate at the age of 15, and turned it into this ever-popular winery.
You will then enjoy a master class and premium wine tasting experience from their very own in-house wine expert.
After that, you can choose a bottle for your liking and a picnic hamper, and enjoy a beautiful picnic on the 270 acre property that has unrivalled views of the mountains and hills.
This is one of the more romantic wine tasting tours in Hunter Valley and would best suit a couple.
Hunter Valley Wine Trails
If you are travelling to Hunter Valley yourself, you might want to do a self-guided Hunter Valley Wine Tour, instead of booking an organized tour.
If that's the case, here are the best Hunter Valley Wine Trails to check out…
1. Lovedale Road Trail
The Lovedale Road trail is quiet and unhurried with many boutique wineries, a chocolate factory, and fine restaurants.
Lovedale Long Lunch, a day of music food and wine crawls happens in the Hunter Valley each May. This year it will be held on the weekend of May 19th and 20th.
Gartelmann's Magpie Cafe had inexpensive, fresh, and healthy homemade lunches by a pretty lake and fountain in the forest.
We also recommend visiting Emma's Cottage, a very small winery with an art gallery and pizza cafe attached.
Wandin Valley Estate is also named after one of Australia's most famous TV shows from the eighties; the writer-producer once owned the vineyard. We scored a carton of 12 bottles of shiraz for $50 here on sale. And it's good too!
2. Pokolbin Road Trail
If you want to avoid the hens day tours and bucks parties then do not go down this Pokolbin Road in the Hunter Valley.
If you like buzz, big-name vineyards, and elbowing people away at the wine-tasting bar then this is the road for you. The most popular road in the region is filled with the biggest names in Australian wine like Lindemans and Rosemount.
Pokolbin Road is the heart of the Hunter Valley, the place where it all began.
Our picks are Tempus Two, Tyrrell's, McGuigan Brothers, and Harrigan's Irish Pub for lunch.
3. Mount View Trail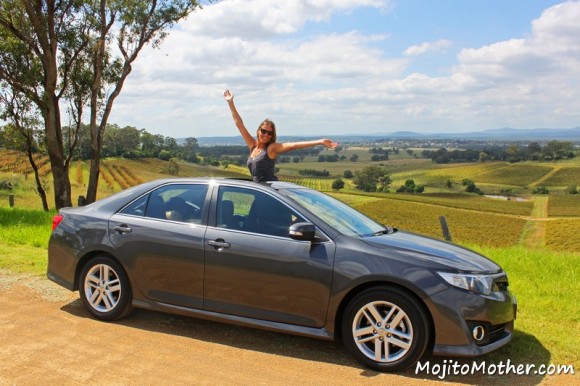 The place for spectacular views of the valley with very little traffic. Drive up to Bimbadeen Lookout for spectacular views of the Valley and the Brokenback Range.
Check out Tallevera Grove. The verandah overlooking the Mount View Valley and vineyards is a beautiful setting for lunch.
Then of course at the bottom of the drive you need to stop at Savannah Estate. Not only does boast our daughter's name, but it has really great wine as well.
Other Things to Do in the Hunter Valley
The Hunter Valley region is not just about wineries, though of course, that's what attracts most people. If you want to explore more of the region, here are some other activities we recommend adding to your itinerary.
1. Explore Hunter Valley Gardens
Situated along Broke Road on the Pokolbin trail, the Hunter Valley Gardens is a peaceful place to retreat.
There are beautiful formal gardens you can wander around for a price of $20 (ouch) or you can bring your own picnic and enjoy the free park across the lake.
There's mini golf, aqua golf, and a quaint village where you can dine out or shop at boutique stores.
2. Spend A Day on the Green
Keep your eyes and ears out for the summer outdoor concerts that happen in the Hunter Valley every year.
What better way to enjoy the valley and the wines than sitting on a picnic blanket and listening to artists like Elton John and Sting.
Keep an eye on the Day on the Green website for upcoming artists.
3. Visit a Brewery
We have been so focused on wine that every time we come here we are yet to visit a brewery. We have heard all great things about the boutique beers that are brewed in the region.
Check out Potters Brewery, Hunter Beer, and the Blue Tongue Lizard Brewery, which is a more mainstream beer.
4. Gorge on Cheese, Chocolate and Gourmet Food
As well as wine and beer there are also locally-made products for you to sample and buy. Olive oils, marinades, cheeses, and chocolates can all be found in small stores or in the vineyards themselves.
I really enjoyed trying chili chocolate for the first time!
Where to Stay in Hunter Valley
There are not many budget-style accommodations in the Hunter Region but you can find some in the nearby town of Cessnock.
There is the Ingenia Holiday Hunters Valley which is a caravan park with resort-like amenities, but at low prices.
We stayed at the Crowne Plaza, and if you want to splurge and have a bit of luxury this is the place to go.
One of the nicest resorts I've stayed in. If you get a group of you and hire out a villa you will reduce your costs. It is also a golfing resort.
Final Thoughts on Wine Tasting Tours of Hunter Valley
There's a lot of wine to be had in Hunter Valley, but there's also beauty, especially in the surrounding Broke Mountains. You will find incredible landscapes, but also fine dining, gourmet chocolate, adventures like hot air ballooning, and relaxing spa treatments and massages.
Believe it or not, there is also something there for families as well as wine enthusiasts, as we discovered on our weekend family getaway to the Hunter Valley.
Beautiful gardens, mini golf, playgrounds, and family singing fun driving through the vineyards.
The Hunter Valley is a popular place for weddings, hens and bucks nights, girls getaways, and male golfing weekends.
So why not take a trip to Hunter Valley and find out all it has to offer yourself?
Have you been on a wine tour of Hunter Valley? What was your experience like? Let us know in the comments.