This post may contain affiliate links. We may receive a small commission, at no cost to you, if you make a purchase. Read Disclosure.
Chianti is a famous wine-growing region in Tuscany Italy. Its rural location makes it an ideal destination to escape to if you're feeling overwhelmed by the city.
It's one of the most beautiful settings that would make for the perfect Italian honeymoon.
Located between Florence and Siena, Chianti is characterized by its medieval towns and picturesque rolling hills covered in forests, vineyards, and olive groves, making it one of the most beautiful regions in Italy.
It also has a huge gastronomy culture, having produced world-class cheeses, olive oils, and cured meats.
The best way to explore all the fine Chianti towns is on a road trip. As you drive from place to place, you can soak in the incredible scenery that has made the region famous. But what's the best route to take and where do you stop? This guide will tell you everything you need to know.
Where is Chianti?
Chianti, or Chianti Classico as it's sometimes referred to, is a region in Tuscany.
You may hear some locals refer to it as Monti del Chianti, or Chianti Mountains in English, as it's the mountainous area around Tuscany.
It combines the cities of Florence, Siena, Greve, and Arezzo, and includes some small towns and villages in the countryside location.
The territory of Chianti first began in the 12th century, but was recognized as a wine region in 1716 and was the first legally binding region in the world to be defined as a wine production area.
Where to Stay in Chianti?
While you can drive from place to place and stay the night in each Chianti Town, doing this can cause some level of stress as you need to pack and unpack all the time, as well as plan when you are going to get to your hotel to check-in.
The region is small enough that you can drive from town to town without the need to do this. It takes one hour to drive from Florence to Siena (about 78 kilometers), so we recommend you get a base and drive.
You could easily base yourself in Florence or Siena if you don't plan to spend much time exploring Chianti, or you can book yourself a rural countryside villa surrounded by vineyards and backed onto the wineries, which, let's face it, sounds way more fun!
Here is our dream Tuscan farm stay at Tenuta di Mensanello only 30 minutes from Siena. And here's our guide on things to do in Siena.
Getting Around Chianti
Since there is no public transport in Chianti, you will need to hire a car and drive. If you don't drive, your best option is to stay in Florence and take buses to each Chianti town for a day trip.
There is no train to Chianti. The train takes you around the region, but not through it.
What is driving in Chianti like?
On a fresh Autumn morning, my wife and I awoke in our rented Tuscan villa to see amazing blue skies outside our window, the sun lighting up the vineyard across from our terrace. It was the perfect setting to wake up to on the first day of our road trip.
Although driving in Italy can at times be quite hair-raising, I found driving through the Tuscan countryside to be relaxing.
The roads twist and turn up hills and down through valleys, passing peaceful forests and small farms with their centuries-old farmhouses, all with their own vineyards, olive groves, and vegetable gardens.
Check car rental prices and availability here.
The Best Chianti Towns to Visit
Once you've got your rental car booked and you know where to base yourself, it's time to plan your route. Here are the Chianti towns you might want to stop off at.
1. Greve
We first went to the larger town of Greve in Chianti to stop and explore.
Walking down the narrow cobble-stoned medieval streets, we made our way to the main town square.
The main square is where you will find the Church of S. Croce, a medieval church that has been restored into a Renaissance Revival style. The inside is just as stunning, featuring a few sacred works of art depicting Madonna and Saints by Bicci di Lorenzo.
The village seems to have remained as it has always been, its main piazza surrounded by tiny shops and cafes, with its beautiful medieval church dominating one end.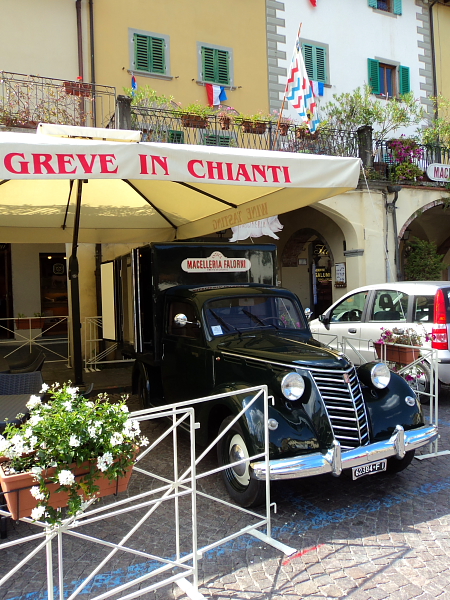 We walked around the piazza checking out local handicrafts, sampling meats, and cheeses, and sitting down to enjoy a cappuccino.
Of course, we couldn't forget about what Chianti is famous for, its amazing wine. And there is plenty of it to taste and purchase.
We spent the early afternoon exploring the little streets and climbing up a steep path to get a nice view out across the town, before driving back to our villa.
2. Castellina in Chianti
A couple of days later we got to take another drive through the beautiful Chianti Classico on our way to Siena, this time taking us past Greve to another main market town in the region, Castellina in Chianti.
Since we were passing by I just had to stop and spend some of our mornings exploring the village. Castellina in Chianti is dominated by its amazing 15th-century fortress in the center of town.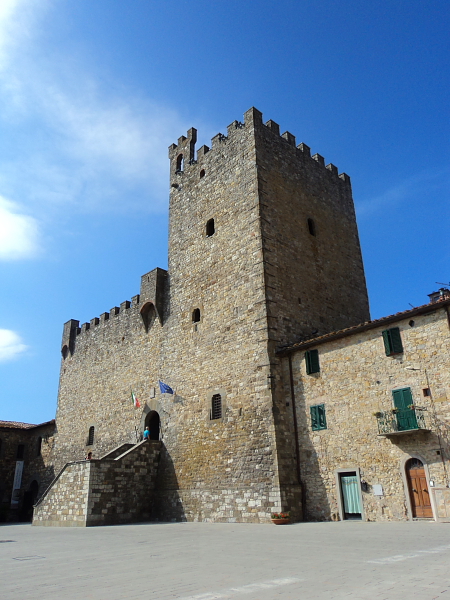 Winding our way through the tiny cobble-stoned streets, we stopped at a cafe for a cappuccino and passed by Castellina's old 16th Century church, Church of Saint Salvador, which was rebuilt after the second world war.
The most notable street in Castellina is Via delle Volte, which translates to "way of the times." It's a largely covered pedestrian pathway that joins the main street.
There are several other shops, wine cellars and galleries along the tunnel route and we particularly like the photography shop which has a great display of photos of the Tuscan landscape.
When we have people stay with us we always take them to Castellina in Chianti as it is so pretty and show them the Via delle Volte as it is so unusual
It seemed as though everyone hadn't even woken up yet as we explored the town, apart from the cafe nothing else seemed to be open yet and very few locals were out and about.
From first impressions, it seems like a cozy, sleepy little town with a lot of character and history dating back to the Etruscans.
The remains of the Etruscan Tombs, Tumulo di Montecalvario, which date back to the 6th and 7th century, can be visited by tourists here.
We walked through a tunnel that runs through one of the ancient walls that surrounded the town, before continuing our drive through the Chianti countryside.
3. Radda
On our way back from Siena in the warmth of the late afternoon, I took a different route through Radda in Chianti, another beautiful-looking village.
The village dates back to around 2000 BC and was traditionally a shepherds village. Remnants of Radda's historic past can be seen from all corners of the village, from the old town walls to the Propositura di San Niccolò church.
Another notable attraction in Radda is the Palazzo del Podestà, which isn't actually a palace but a government building that was used as the headquarters of the League of Chianti for over 400 years.
The village is sleepy and quaint, the perfect place to sit in a cosy restaurant and people watch.
4. Panzano
Panzano is one of the best places to visit in Chianti for food. Dario Cecchini, a famous poet and butcher, has his butcher shop, Antica Macelleria Cecchini, in Panzano. The shop is famous for its Tuscan-style fast food dishes.
Panzano is the most populous Chianti town, just south of Greve. It's historically important since it played a defensive role in the 12th century, which you can still see today at The Castle of Panzano.
The castle was used by the Florentine Republic during the battles between Florence and Siena.
Other notable landmarks in Panzano are the churches. The Church of St. Maria is an excellent example of Romanesque architecture and is just as old as the castle.
Then there is Pieve di San Leolino, a catholic church belonging to the diocese of Fiesole, which dates back to the year 982. The inside contains beautiful works of sacred art by local masters.
5. Volpaia
Just 7km away from Radda is the tiny village of Volpaia, which is known for its Castello di Volpaia.
The castle belongs to the Mascheroni Stianti family, who maintain the castle and look after its restoration, ensuring its characteristics remain true to its Middle Age conception.
The castle is now a winery, offering tours of the cellars, where visitors can taste four types of wine and extra virgin olive oil.
It was said that the village of Volpaia was once home to artists and builders who created armillary spheres and solar clocks. Leonardo da Vinci's friend, Lorenzo, had a home here. He was famous for building the planetary clock on the Palazzo Vecchio in Florence.
6. Gaiole
Gaiole in Chianti is a delightful area in the Siena province of Tuscany known for its stunning view of rolling hills and vineyards, as well as its picturesque castle ruins.
The area is steeped in history — those interested in castle-hopping can visit the 11th century Castle of Meleto, the Castle of Vertine dating back to the year 1000, or the Castle of Brolio that was built in 1009.
In addition to immersing yourself in these historical sites, you can take part in local wine tastings and tours of the many local vineyards.
There are also multiple hiking trails in Gaiole in Chianti, providing travelers with plenty to do in this idyllic region.
Whether it is cycling through the village's streets or trekking along its picturesque trails, there is something for everyone to do here.
7. Barberino Tavarnelle
Barberino Tavarnelle is one of the oldest comunes in Chianti. The town was renamed after the municipalities of Barberino Val d'Elsa and Tavarnelle Val di Pesa merged in 2019, but historians believed the town has been settled here since the Etruscan Period.
Barberino Tavarnelle isn't just a historical landmark; it also offers plenty to do, from wandering through the gardens of Castello della Paneretta, where you can admire Barberino's lush landscaping and views of Chianti's scenic rolling hills to visiting the historic Pieve Di Sant'Appiano church.
And of course, wine tasting and vineyard tours are a must here.
Between its stunning nature spots and fascinating past, Barberino Tavarnelle is an absolute must for any traveler visiting Tuscany.
8. San Casciano in Val di Pesa
San Casciano in Val di Pesa is the perfect oasis for nature lovers. The comune village of San Casciano has remained largely unchanged since Medieval times, and so provides plenty of history to explore.
Archaeological finds from San Casciano highlight that this area has been occupied since Etruscan and Roman times, showing just how ancient the region really is.
San Casciano is tiny and sweet and offers an idyllic rural escape, but it's also a great place to rent a bike and explore the surrounding countryside.
Before You Go
The lifestyle here is so relaxed and peaceful that I think the Chianti region is a place where I could live for a while.
Driving through the forested hills on the way back to our villa, a deer leaped across the road and continued its way up the slope. This place just has beauty written all over it.
Having a villa to base ourselves in whilst in Tuscany, meant that we could truly experience this area. There is nothing better than sitting out on your terrace, watching the sunset over the vineyards whilst sipping the finest quality glass of wine in Italy.
If you're going to Tuscany, I highly recommend hiring a car and exploring the countryside. Chianti is truly a beautiful place.
Popular Tours of the Chianti Region of Tuscany
Wine and food tours of Tuscany are very popular things to do in the Chianti region. If you don't have your own car, you can join some of these day trips from Florence.
Dean is an intrepid traveller from Australia. He travels whenever and wherever he can to explore new places, experience new cultures and taste new food. He hopes to inspire other people to travel through his articles and photos on his travel blog, The Road to Anywhere. You can connect with him on Facebook and Twitter.
More Italy Travel Guides
Are you visiting other parts of Italy? Then you may find the following resources helpful! don't miss our 2-week Italy itinerary from Rome to Venice.
Have you been to Tuscany before? Share your experiences in the comments below.